Wines from the USA
The Pacific Northwest, Washington , Oregon and Idaho
Washington has more than 4 times the vineyards compared with Oregon . Maybe this is a surprise too many off you! Again the Spanish arrived around 1773 and actually George Vancouver claimed it for the British. The first vine planting took place in 1825. Today around 100 winemakers cover something like 15.000 hectares.
De Lille Cellars - Washington
Founded in 1992 by Charles Lill, Chris Upchurch, Greg Lill, and Jay Soloff, DeLille Cellars is a small winery located in Woodinville , Washington . Simply stated, our goal is to make the very best handcrafted, old-world style red and white wine made in the State of Washington . We are a family and independently owned winery with an uncompromising philosophy about the quality of what will be in your bottle of wine.
DeLille Cellars currently produces four Bordeaux-styled wines: Chaleur Estate Red, D2, Harrison Hill and Chaleur Estate Blanc; and also a Northern Rhône -styled Syrah named Doyenne. We have built a traditional "chai" styled winery on the family farm owned by the Lill family. This beautiful ten-acre site sits above the Woodinville valley floor, overlooking the wineries of Chateau Ste. Michelle and Columbia Winery. The traditional DeLille Cellars structure allows for winemaking methods as in the finest chateaux of Bordeaux , including open top fermenters and an underground barrel cellar.
All wines from DeLille are made with the highest "hand-crafted" standards. Only grapes from the oldest and best vineyards in Washington State are acquired. They, in turn, are hand picked and hand sorted at crush, using only the finest berry clusters. Our wines are aged in 100% new French Oak barrels each and every year and are never filtered.
DeLille Cellars was named Winery of the Year 2000 by the New York Times on the web at Winetoday.com. Robert Parker Jr. of the "Wine Advocate" rated us as one of the top four producers, bestowing the title of the "Lafite Rothschild of Washington State ". Decanter placed our 1998 Chaleur Estate in their Pacific Northwest Top Ten List, giving it their highest rating of five stars and chose 1999 Harrison Hill as a recommended Wine of the Month in May 2002.
The Institute of the Masters of Wine in London , England also honored DeLille Cellars with the "Certificate of Excellence" award, the only winery from the northwest to receive this honor. Six of the last seven years, the DeLille Cellars Chaleur Estate was awarded scores of 91-96 points and a platinum medal, as well as being declared twice one of the top 100 wines of the world by "Wine Enthusiast Magazine". Wine Spectator rated the 1999 Chaleur Estate with a score of 93 points in June 2002 and the 2000 Chaleur Estate with a score of 91 points in September 2003. In 1997, DeLille Cellars broke the record for the highest price paid for a bottle of Washington State wine at auction ($16,000 )
Oregon
First planting took place in 1854. In the sixties some Californian vintners moved to Oregon and the big surprise happened
In 1979 when David Lett ( The Eyrie Vineyard ) entered his 1975 Pinot Noir in a blind tasting competition by Robert
Drouhin, Drouhin's Chambolle Musigny 1959 came first and David lett's Pinot Noir became second.
Idaho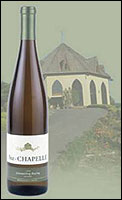 St. Chapelle
The smallest wine making state in the northwest but includes the well known Ste. Chapelle; also the largest one.
From high a top "Winery Hill," Ste. Chapelle Winery overlooks "Sunny Slope," thousands of acres of fertile orchards and farmland in Southwest Idaho, with the famous Snake River winding through the valley below. Founded in 1976, Ste. Chapelle Winery is named after the beautiful La Sainte Chapelle in Paris , built by King Louis IX as the court chapel during the 13th century.
Idaho 's acclaimed volcanic soils, vineyard elevations that range as high as 2,900 feet, and long, sunny days were first discovered by immigrant French and German winemakers in 1872. Today, as the state's largest winery... and still growing, Ste. Chapelle remains dedicated to honoring Idaho 's proud wine-growing tradition and takes pride in showcasing the distinct personality of its vineyards.
Winemaker Chuck Devlin joined Ste. Chapelle in September of 2000 with an impressive academic and winemaking background. While obtaining a bachelor's degree in Fermentation Science from the University of California at Davis , Devlin spent several summers working California harvests. After graduating from Davis in 1975, Devlin continued in the wine industry in many capacities, including as winemaker and owner of Devlin Wine Cellars. During his tenure as winemaker and owner, Devlin's wines captured numerous medals and awards.
At Ste. Chapelle, Chuck's focus in winemaking is to bring out the unique quality of each vintage in the final wine through slow, cool fermentations for white wines, barrel fermentation for Chardonnay, and maximum development of flavor in red wines. His aim is to bring Ste. Chapelle to national prominence by combining the potential of Idaho 's wine industry with his winemaking expertise.
The Atlantic Northeast
America 's oldest wine industry which goes back to the 17 th century. Quality wine making began there in 1934.
It covers the area's of Maryland , NewYork , Pennsylvania , Michigan , Ohio , west Virginia , Massachusetts , Indiana , Kentucky , Connecticut , Rhode Island , New Jersey .
Other Grape Varieties that may be found in the above Wine Regions
Aurore
Baco Noir
Catawha
Chelois

Concord
Delaware
Gamay
Marechal Foch

Muscat Ottonel
Pinot Gris
Seyval Blanc
Vidal Blanc
Vineyards from "The Rest of the USA "
Hedges Cellars ( Washington State ) - Columbia Winery ( Washington State ) - Canoe Ridge (Washington State )
Stimson ( Pacific Northwest ) berk, Col Solare berk, Ste. Chapelle ( Pacific Northwest ) berk
Eroica ( Joint Venture Ste. Michelle / Dr. Loosen Germany ) berk,
Domaine Drouhin ( Oregon ) field, ici / La Bas ( Oregon ) fields, Andrew Will Winery (Washington) fields,
Lemelson Vineyards ( Oregon ) arm, Cristom ( Oregon ) treas, DuckPond ( Oregon & Washington , traes
De Lille Cellars ( Washington ) treas