Liqueurs from THE UK
Bramley & Gage – Liqueur Makers – South Devon / UK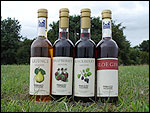 Bramley and Gage started making liqueurs over 20 years ago on their fruit farm in South Devon. The lessons learnt in growing fruit still guides the production today, from letting it ripen fully and naturally on the bush, using only the varieties that give the best flowers.

They still make all the products themselves, by hand. They only use real, whole, fresh fruit, sourced as local as possible. The production process ensures that as much of the natural flavour, freshness and colour of the fruit as possible is retained together with the maximum amount of naturally occurring vitamins.
There are no added colourings or preservatives!
Drinking suggestion
Hedgerow Sling, 1 parts Sloe Gin, 1 part Blackberry Liqueur,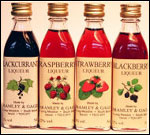 1 part Gin. Mix, add to highball glass and fill with ice, cover with
sparkling water, serve with a straw.
Make a Kir mure with Blackberry Liqueur and white wine.
Cooking Ideas
Try Greengage or Blackberry Liqueur poured over Ice Cream.
Any of our liqueurs are delicious with crepes
Plum Sauce to serve with Duck
250g ( 1/2 lb) Stoned plums Miniatures with recipes
Juice of 1 orange
75g (3 oz) Sugar
5cl Greengage Liqueur or Sloe Gin
Puree the stoned plums and put into a saucepan with the juice and the sugar. Boil for 5 minutes.
Add the Greengage Liqueur, check the flavour and serve with a roasted duck
Price List
Alcohol %

5 cl

Price incl. Vat

35 cl

Price incl. Vat

70 cl

Price incl. Vat

Gins

Sloe Gin

26

£ 1.99

£ 9.99

£ 18.95

Sweet Sloe Gin

26

£ 1.99

£ 9.99

£ 18.95

Damson Gin

26

£ 1.99

£ 9.99

£ 18.95

Herb Liqueur

Woodland's Companion

20

£ 1.99

£ 9.99

Fruit Liqueurs

Raspberry

26

£ 1.99

£ 9.99

Strawberry

18

£ 1.99

£ 9.99

Blackberry

22

£ 1.99

£ 9.99

Blackcurrant

22

£ 1.99

£ 9.99

Dittisham Plum

22

£ 1.99

£ 9.99

Quince

20

£ 1.99

£ 9.99

Bramley Apple

18

£ 1.99

£ 9.99

Greengage

20

£ 1.99

£ 9.99

Slider (a Sloe and Cider Liqueur)

17.5

£ 1.99

£ 9.99

£ 16.95
Recipes and Cocktail ideas incl. 4 x 5 cl Miniatures
| | | |
| --- | --- | --- |
| Felicity Selection | Raspberry, Blackcurrant, Sloe Gin, Quince | £ 9.95 |
| Edward's Selection | Sloe Gin, Damson Gin, Blackberry, Greengage | £ 9.95 |
| Penny's Selection | Raspberry, Strawberry, Sloe Gin, Quince | £ 9.95 |
All prices exclusive of VAT