Wines from Italy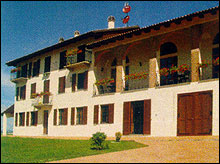 Italian wines are a rich potential but lack some focus when it should really be diverse.
You will find Pinot Grigio everywhere and as Italy proves vines are so easy to grow that one even expects them to grow in areas like the pavement.
The number of interesting indigenous grape varieties is greater than can be found anywhere in the world. Vine varieties and the type of wines they make not only merge within provinces, but overlap their boundaries. This of course can be quite confusing. In spite of this Italy makes approx. 1/4 of the wine from around the world similar to France.
Wines are improving all the time and small wineries are producing excellent qualities.
Vineyards from Italy
Acuti
Alois Lageder
Angelo Gaja
Aziende Agricole Grati
Bava
Bersano Piemonte
Bolla
Botter
Bric Cenciurio
Ca'Bianca
Caggiano
Caleo
Cantie dei Marchesi
Cantine San Tommaso
Casa Brini _ Piedmonte
Casa Vinicola C. Botter
Cascina Christiana
Castello – Monaci
Castello di Ama
Castello di Nippozano
Christina Cristiana
Cielo Terra
Claudio Alario
Daviddi
Il Plalazzone
Tenuta del Portale
Domenico Clerico
Eraldo Viberti
Farnese
Fattoria di Basciano
Fattoria le Terazze

Fiegl
Fratelli Casetta
Fratelli Tedeschi
Gemme Fausto
Giacomo Conterno
Gini Monteforte d'Alpone
Giovanni Corino
Grave del Friuli
Grimaldi
Guerrieri Rizzardi
Humberto Caesari
Jermann
La Brancia
La Carraia
La Guardiense
La Spinetta
Lamberti
Le Scapitozze
Le Vigne
Lodali
Luce de la Vite
Luciano Sandrone
M. & G. Brunori
Maffini
Marchesi de Frescobaldi
Marco Felluga
Martellozzo
Masi
Matteo Corregia
Melini
Mezza Corona

Michelle Chiarlo
Minini
Monte del Fra
Montenidou
Paolo Scavino
Piaggia
Piero Costantini
Planeta Winery Sicily
Rapitala – Sicily
Roacca Albino
Roberto Voerzio
Roche del Mazoni
Santa Margherita
Sartori
Sassicaia
Solatione
Suavia
Talenti
Tasca D'Almerita
Tenimenti Angelini
Tenuta di Lilliano
Tenuta San Guido
Terrale Sicily
Tomáis
Tommasi
Villa Brunesca
Villa di Geggiano
Villa Magna
Villa Simone
Volpi
Wine Areas
Northwest Italy includes Piedmont, Liguria, Lombardy and Valle of D'Aosta.
Northeast Italy incl. Trentina Alto Adige , Friuli Venezia Giulia and the Veneto.
West Central Italy incl. Sangiovese from Tuscani and the valley between the Umbria Latium border
East Central Italy incl. Emilia Romagna, the Marches and the Abruzzi which is producing
better qualities and the Lambrusco known everywhere around the world.
Southern Italy and the Islands incl. Puglia, Campania, Basilicata, Calabria, Sicily and
Sardinia
Grapes
The selection is so vast, that it would take pages to be filled. Just find a few selected from the range.
Barbera
Bonarda
Carignan
Cabernet Sauvignon
Chardonnay
Cortese
Corvine
Gamay

Grenache
Lambrusco
Malbec
Malvasia
Merlot
Montepulciano
Morellino
Nebbiolo

Pinot Grigio
Pinot Nero
Sagiovese
Syrah
Trebbiano
Ugni Blanc
Verdello
Art in The Bottle. Fattoria Nittardi wines
Abe and Joanna met Stefania Canali in Ascot just over a year ago. She and her husband Peter not only the owners of the Nittardi vineyards but they also own an art gallery in Frankfurt. At the same time Peter was preparing his stand at the World Fine Art Fair in Moscow.
Stefania had some of the Nittardi wines with her so we arranged a quick lunch at Ciao 90 in Ascot and we were joined by the owner and some of the staff of Ciao 90 to taste these delicious wines.
Fattoria Nittardi Vineyard was started by Michelangelo Buonarroti in 16th century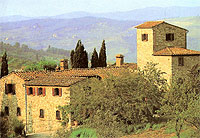 Fattoria Nitardi is a traditional wine growing estate, situated in the centre of Tuscany between Florence and Siena. The old wine estate used to be a strong hold tower and was first mentioned as "Nectar Dei" in the 12th century.
During the 16th century it belonged to Michelangelo Buonarroti who grew his own vines. The quality of the wine was so impressive that Buonarroti sent several bottles of Nittardi to Rome as a "dono genuino" as is written in the letters he sent to his illustrious patrons, Popes Julius II and Leo X.
Today, 12 hectares of vineyards, olive groves and 100 hectares of unspoilt woods encircle the Nittardi Estate. It lies in the middle of idyllic protected countryside and is 8 km from the nearest village, Castellina in Chianti. The vines at Nittardi grow on an ideal site right in the heart of the Chianti Classico region, at about 450m above sea level on the south side of a range of hills. These hills are covered with oak trees that offer protection from the cold winds.
---
Cascina Christiana. Exclusive in the Uk from RI - Wine of Ascot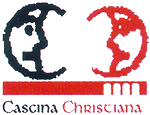 RI – Wine of Ascot represents Peter and Christiana Kaplanski to import the range of wines produced by Cascina Christiana winery which is located between Genoa and Alessandria on the outskirts of the picturesque town of Nizza Monferrato.
Peter and Christiana who purchased the winery only 5 years ago, have produced already two stunning wines in the first year of production in 2001 followed by Soldivigna Barbera D'Asti in 2002. This wine is aimed as a " House Wine " for easy drinking at home, in Restaurants, Wine Bars etc. The Vintages are following this year The boutique winery itself is part of a small complex which also offers luxurious self catering facilities.
The vineyards are planted with Barbera D'Asti grapes, which are indigenous to the region. The vines thrive in the unique soil conditions of the area. a modern state of the art winery was completed in 2002. Cascina Christiana is committed to to producing wines of the highest quality.
The first wines had been introduced to Restaurants etc. in the local area and have surprised many with their outstanding quality and taste and gained rapidly an outstanding reputation.
The first export contract was completed with RI - Wines and the range of the first 3 wines are already sold in the UK market with new vintages to follow shortly.
Cascina Christiana "The Arrival of New Vintages in November 2005". Testing Notes.
La Mota. Barbera D'Asti Superiore 2001/ 02
"La Mota" is the only Barbera d'Asti Superiore produced by Cascina Christiana. Specially picked grapes have been used to produce this excellent wine. Matured in oak barrels for 11 month. The richness and the elegance of this wine make it the the estate's flagship.
Colour: ruby red with perceptible garnet rim.
Bouquet: Intense, complex combination of mature fruit and wood.
Taste: Dry, full, rich with ideal balance of acidity and tannin.
Vintage: 2001 Vol.: 13.5%
Reiss. Barbera D'Asti 2003, Decanter Bronze Medal Winner 2005
"Reiss" in Piedmontese means roots, which signifies the estate's desire to produce a traditional Barbera. Barbera is one of the main black grape varities in the Piedmont area.
Colour: Ruby red.
Bouquet: Intense and persistent mature fruit.
Taste: Dry, soft with good balance of acidity and tannin.
Vintage: 2001 Vol.: 13.0%

Soldivigna. Barbera D'Asti 2002
Soldivigna is a pleasing wine, that is easy to drink and provides immediate enjoyment.
Colour: Ruby red with violet overtones.
Bouquet: Persistent and of medium intensity.
Taste: Dry with fresh acidity and medium body.
Vintage: 2002 Vol.: 13.0%
Your Family Wine. Letter from Cascina Christiana

Reiss 2003 by
Cascina Christiana
BRONZE MEDAL winner
at the 2005
Decanter World Wine.
We at Cascina Christiana, in Italy, would like you and your family to know that:
Reiss, our award-winning, estate-grown and bottled Barbera d'Asti wine is now available in the United Kingdom.
As a family-owned and operated vineyard, we are delighted to hear from a number of Reiss families who have adopted our Reiss (roots, in Piedmontese) as their personal house wine. Made from the highest quality grapes, this full-bodied versatile red wine is perfect for all family occasions:
Weddings
Graduations
Birthdays
Anniversaries
Christmas & special dinners
Promotion
With a beautifully evocative label, Reiss makes a memorable gift for family, friends and business associates. It is also available in magnums.
It gives us great pleasure that our Piedmontese roots have become intertwined with so many Reiss family trees. We look forward to bringing some Italian sunshine and warmth to your family gatherings.
We would like to invite you to visit our website http://www.cascinachristiana.com where more information can be found regarding our winery, vineyard, wines and accommodation all, of which are set in the most beautiful countryside.