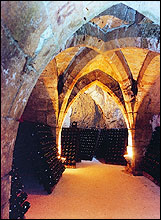 The Cellars of Tattlinger
Wines from France
Champagne
The five major districts of the Champagne area are: Montagne de Reims, Cote de Blancs, Vallee de la Marne, The Aube and Cote de Sezannes.
Heidsieck 1907 from the last shipment to the Czar
See the story "The Joenkoeping"
Ayala by Bollinger
Albert Beerens
Andre Jacquart
Baujean
Billecart Salmom
Bollinger
Bruno Paillard
Canard Duchene
Cattier
Castellane
Chanoine
Charles Heidsieck
Claude Renoux
De Nauroy
Deutz

Dom Perignom
Garnet
Gaston Chiquet
George Cardet
Gosset
Heidsieck Monopole
Jacquard
Joseph Perrier
Krug
Lanson
Laurent Perrier
Louis Roederer
Mansard
Mercier
Moet et Chandon

Pannier
Perrier Jouet
Piere Moncuit
Piper Heidsieck
Pol Roger
Pommery
Royet Pere et Fils
Ruinart
St. Evremond
Tesulat
Theophile Roederer
Veuve Cliqout
Veuve Delaroy
Victor
Contact us for any old vintages or maybe a Champagne you can't find.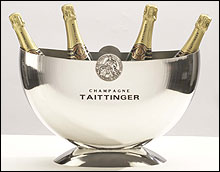 We sell Accessories and Gift-Packs
from Champagne Houses
Champagne Bottle sizes:
20 cl, 1/2 Bottles,
Bottle,
Magnum ( 2 Btls. ),
Jeroboam ( 4 Btls. ),
Rehoboam ( 6 Btls. ),
Methuselah ( 8 Btls. ),
Salamanzar ( 12 Btls. ),
Balthazar ( 16 Btls. )
Nebuchadnezzar ( 20 Btls. )
Sparkling Wines
Methode Traditionelle:
Bouvet Ladubay
Charles de Frere
Dopff au Moulin

Langlois Chateau
Louis de Vernier
P. Marchand

Moingeon
Varichon & Clerc
Veuve de Vernay
Bordeaux
The Chateau's and areas of the Bordeaux region:
Bordeaux and Bordeaux Superior, Medoc, Saint - Estephe, PauillacSaint - Julien, Margaux, Graves,
Cerons,Sauternes and Barsac, The Libournais and Fronsadais, Saint - Emilion, Pomerol, Bourg and
Playe and Entre - deaux - Mers.
Andre Lurton Estate
Chateau Batailley, Pauillac
Chateau Beau Site St. Estephe
Chateau Bel - Air
Chateau Beycheville St. Julien
Chateau Bonnet
Chateau Cantenac Brown Margaux
Chateau Cantermerle Margaux
Chateau Cissac Haut Medoc
Chateau Dauzac Margaux
Chateau de Ferrand St. Emilion
Chateau de Pez St. Estephe
Chateau de Pez
Chateau du Domaine St. Eglise Pomerol
Chateau Ducru – Beaucaillou St Emilion
Chateau Duhart Milon Rothschild
Chateau Gloria St. Julien
Chateau Grand Puy Ducasse Pauillac
Chateau Greysac
Chateau Haut Beausejour
Château haut batailley
Chateau Haut Ferrand Pomerol
Chateau Haut Brian
Chateau Kirwan Margaux
Chateau La Lagune Haut Medoc
Chateau Lafite 1er Cru Pauillac
Chateau Lafitte
Chateau Lagrange St. Julien
Chateau Lalande St. Julien
Chateau Langoa Barton St julien
Chateau Latour Pauillac
Chateau Leoville Barton St. Julien
Chateau Leoville La Cases St. Julien

Chateau Lezongars
Chateau Loudenne Medoc
Chateau Lynch Bages Pauillac
Chateau Magnol Haut Medoc
Chateau Margaux
Chateau Monlot Capet St Emilion
Chateau Mouton Rothschild 1er Cru Pauillac
Chateau Mouton Rothschild Pauillac
Chateau Palmer Margaux
Chateau Pichon Lalande 2ieme Cru Pauillac
Chateau Plince Pomerol
Chateau Pontet Canet Pauillac
Chateau Potensac Haut Medoc
Chateau Rauzan Segla
Chateau Ribeiron Medoc
Chateau Segonnes Margaux
Château Tourte
Château Corconnac
Château Teynac
Château La Croix
Château Petit Figeac
Château la Fleur
Château Brown Lamartine
Château Tour Pibran
Château Pibran
Chateau Talbot St. julien
Chateau Tayac Margaux
Chateau Troplong Monlot St. Emilion
Le Dome Grand Cru St. Emilion
Michel Lynch
Sanctus St. Emilion Grand Cru Classe
Sarget de Gruaud Larose St. Julien
Pichon-Longueville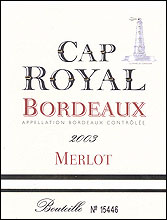 Wine made under the supervision
by the Winemaker
of Pichon-Longueville
Location: Just opposite Pichon-Longueville Comtesse de Lalande and Latour, on the road leading from Saint Julien to Pauillac.
Vineyards: 82 acres producing 20,000 cases.
Classification: 2nd Growth
Grape Varieties: 75% Cabernet Sauvignon , 24% Merlot, 1% Petit Verdot . Average age of the vines is 25 years.
Vinification and aging: Fermented in lined cement vats and aged in oak barrels for 18-20 months.
History: In the 17th century, the whole of the two Chateaux Pichon-Longueville belonged to Pierre des Mesures de Rauzan, an important landowner of the Medoc, whose daughter married Jacques de Pichon, Baron de Longueville. In the 19th century, Baron Joseph de Pichon-Longueville left two-fifths of the vineyard to his son Raoul, and the remaining three-fifths to his daughters, Comtesse Sophie de Pichon-Longueville, Comtesse de Lalande and Vicomtesse de Lavaur. Not having had descendants, Comtresses Sophie de Pichon-Longueville and de Lavaur left their shares to their sister the Comtesse de Lalande.
In 1935, Baron Raoul de Pichon-Longueville sold his property to the Bouteiller family. In 1987 Pichon-Baron was sold, and Jean-Michel Cazes (proprietor of Chateau Lynch Bages and Chateau Les Ormes de Pez) brought in as administrator.
Style: Supple and full of ripe cassis and black currant fruit.
Food: Excellent with all red meats and game.
Vintage: 1994 High perfumey nose/good fruit . still drying
tannins/ great wine needs some time.
Old Bordeaux Vintages
We are able to supply old Vintages, Magnums and rarities
Vintage Chart
1981

Overshadowed by the 1982's but a very good classic Vintage

1982
Large Vintage of superb wines beginning to drink now. Cool August and hot September left
The grapes in great condition and made it a vintage of the century.
1983
Little more austere than 1982. Margaux wines better than 1982
1984
poor weather early on damaged the Merlot, late rain ruined the Cabernet – need we say more ?
1985
Classic Vintage producing wines of great balance and finesse. St. Emilion and Pomerol
Excellent.
1986
Large Vintage of good wines at their best in the Medoc
1987
Poor summer – late rains- a dilute vintage much berated but it produced pleasant short term
Drinking
1988
Dry weather thickened the skins producing firm tannins that have taken some time to soften.
1989
Excellent, through not as fleshly as the 1990's. Merlot faired a little better than the Cabernet
1990
A big crop of fat ripe grapes producing wonderfully rich wines with ripe integrated tannins.
Excellent.
1991
Frost in April reduced the yield and late rains diluted what was left ! Drink up !
1992
a large Vintage of generally fairly dilute wines for the short term.
1993
Heavy late rains diluted many wines. Light pleasant early drinking vintage.
1994
Promising before rainfall. Wine of St. Emilion and Pomerol picked before rain can be excellent
1995
More concentrated than 1993 or 1994 due to less rain and excellent conditions early on.
1996
Firm ripe tannins, good level of acids. Cabernet dominated wines show good concentration
Similar to 1986 and 1988
1997
a good year but one often missed and overshadowed by those that followed. They exhibit
good fruit and are drinking very well now. Prices are reasonable.
1998
a superb year for the Merlot based wines of St. Emilion and Pomerol and generally good
for the Merlot
1999
A year that produced some big, fleshy, tannic wines, particularly in the Medoc.
2000
An almost consistently excellent Vintage through both left and right banks and through the
Price ranges. The lesser names and appellations where the prices did not shoot up in the
Top names, can offer good value.
2001
A good vintage but one which is overshadowed by its predecessor. Good balance, fruit and structure, wines typical of their appellations and good prices makes this a good choice.
2002
A Cabernet year and so impressive in the left bank. The right bank was more patchy.
2003
Hot, hot, hot ! Must be one of the most controversial vintages on record resulting in
Spats between some of the most influential wine critics – time ( and taste ) will tell !!
Information on older vintages can be obtained from RI-Wine.
Burgundy
Bernard Legland
Bouchard Aine et Fils
Bouchard Pere et Fils
Chanson
Charles Thomas
Chateau Chambolle Musigny
Château de Chassagne Montrachet
Chateau de Lavernette
Château de Puligny Montrachet
Chateau Fuisse
Domaine Albert Grivault
Domaine Albert Morot
Domaine Armand Rosseau
Domaine Bertrand Ambroise
Domaine Chandon de Briailles
Domaine Denis Race
Domaine des Lambrays
Domaine F & L Pillot
Domaine Follin- Arbelet
Domaine G. Thomas et Fils
Domaine Henri Gouges
Domaine J.P. Filipi
Domaine Jaques Cacheaux

Domaine Jardin de Princes
Domaine Jean Boillot
Domaine Jean Pilott
Domaine Jean Ruckaert
Domaine Laroche
Domaine Larue
Domaine Lefleve
Domaine Michel Gros
Domaine Michelot
Domaine Moreau – Naudet
Domaine Paul Pillot
Domaine Rene Engel
Domaine Roger Luquet
Domaine Rousseau
Domaine Simon Bizet
Domaine Y. Clerget
Drouhin
E. Loron & Fils
Emile Voarick
Etienne Sauzet
Faively
FredericMugnier
G. Chavey

Georges du Beoeuf
J. Moreau
J. Pascal
J. Pillot
J.M. Brocard
Jaffelin
Jean Chauvenet
Jean Marc Brocard
Joseph Drouhin
L. Latour
La Chablisienne
Louis Jadot
Louis Remy
Maison Chanson
Maison Henri Boillot
Michel Laroche
Mommessin
Phillippe Marchand
Regnard
Robert Chevillon
Ropiteau
Simonnet Febvre
William Fevre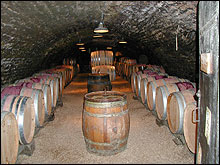 Our House wine comes from the cellars
J.P.Marchand - Gevrey Chambertin
The Wine Areas of Burgundy
Chablis District, Cote de Nuits and Haute - Cotes de Nuits, Cote de Beaune and Hautes - Cotes de Beaune, The Cote Chalonaise and The Maconais.
Some of the famous Villages are: Gevrey Chambertin, Vosne Romanee, Nuits St. George, Puligny Montrachet, Rully, Givry ... just to name a few.
Domaine Jean – Pillippe Marchand – Gevrey Chambertin.
The Marchand Estate was founded in 1813 by Pierre Marchand a small winegrower. He married Marie Jacotier who had inherited a small estate from her father. In 1983 Phillippe took over and bought the winery in Chambertin. The present building goes back to the 18th century and is used today for wine making, cellering and storing all on the same site.

The Marchand holdings are in Chambertin, Chambolle Musigny, Saint Denis featuring some first growth wines like Les Sentieres at Chambolle, Clos des Ormes at Morey, Les Combotytes at Gevry, Griottes Chambertin and Charmes Chambertin at Gevry only to name a few.

Most of the vines are more than 40 years old and the grapes are harvested by hand with great care. New and old barrels are used depending on the wines and Phillippe is personally taking great care so that top quality wines are produced.
We are proud to work with Marchand and have developed our house wines supplied by him. These wines are highly recommended together with his fine wine selection from the area of Chambertin.
The Beaujolais
This very large district is famou to produce the only Gamay wine to gain classic status. It is a light, purple coloured, fresh and quaffing wine that accounts for no less tha 6 out of 10 bottles of Burgundy produced every year.
Well known are Beaujolais, Beaujolais Primeur, Beaujolais Superior and the well known Villages of Brouilly, Fleurie, Chenas, Julienas, Morgon etc.
Beaujolais
Baron de Chateland
Bouchard Pere et Fils
Cave de Fleurie
Chanson
Chateau de Jacques
Château de Lavernette
Château de Nety

Château de Raousset
Domaine Autour de la Madone
Domaine Gilbert Picolet
Domaine de la Madonne
Domaine Maurice Gaget
Georges du Boeuf
Henry Fessy

Hospices Wines
L. Latour
Louis Jadot
Louis Tete
Mommessin
Pellerin
Ropiteau
The Loire Valley
The river Loire is the longest one in France running from the source in the Gevennes Mountains and flows for 1000 km into the Atlantic at the City of Nantes. The variations of soil, climate and grape varieties found along its banks are reflected in the wide range of wines are grown in the 4 major regions.
Grapes are Chenin Blanc, Chardonnay, Gamay, Cabernet Franc, Cabernet Sauvignon, Pinot Noir, Malbec, Sauvignon Blanc, Grolleau and many other varieties.
Loire
Albert Pic
Andre Neveu
Château de Tracy
Chateau Langlois
Comte Lafond
De Ladoucette
Domaine Bailly Reverdy
Domaine Chateau Langlois
Domaine Crochet
Domaine Dolny
Domaine Jean Thomas

Domaine Patrick Coulbois
Domaine Philippe Renaud
Donatien Bahuaud
Fournier Pere et Fils
Gerard Morin
Henri Bourgeois
Jean Reverdy
John Reverdy et Fils
Joseph Mellot
La Poussie
Les Champs, Pabiot

Les Pays Nantis
Louis Metaireau
Lucien Crochet
Mademoiselle de St. Baville
Marc Bredif
Michel redde et Fils
Pascal Jolivet
Paul Thomas
Regnard
Seguin
Thierry Merlin – Cherrier
The Rhone Valley
Famous for it's full, fiery and spicy rich red wines and split into Northern and Souther Rhone. Famous wines are Rotie, Hermitage and St. Joseph in the north and Chateauneuf - du -Pape, Gigondas, Muscat Beaume de venise and 16 Villages which includes their own Village appellation.
The well known Chateauneuf - du - Pape dates from the time of the dual Papacy of the 14th Century. The appellation is ell knownfor its amazingly stoney soil, which at night refelcts the heat, stored during the day. The size, depth, variation and distribution of these stones plus the 13 different grape varities account for the differnt styles.
Rhone
Chapoutier
Chateau de Campuget
Château des Hautes Ribes
Château du Rignon
Château du Trignon
Chateau Mont Redon
Château Rayas
Delas
Domaine Albert Belle

Domaine Bosques des Papes
Domaine Courbis
Domaine Cuilleron
Domaine du Galet des Papes
Domaine du Pesquier
Domaine Ferraton
Domaine Font de Michelle
Domaine Les hautes Cances
Domaine Perrin

Domaine Saint Benoit
Domaine St. Estephe
Guigal
Jaboulet
Jardin des Princes
Louis Bernard
Michel Ogier
Moulin de la Gardette
Salavert
Rhone Valley : Northern Rhone - Southern Rhone
Regional Areas : The Jura and Savoie - Southwest France - Rousillon - Provence - Vin de Pays which include The famous Chateaux and rare vintages - Magnums etc.
The Maison – Chapoutier
Since its inception in 1808, seven generation shave followed to built up one of the most magnifcant Domaine Ine the Rhone Valley. The Maison M. Chapoutier has progressively spread and diversified within the Heart-Land of the Hermitage, Crozes – Hermitage, Saint – Joseph, Ardeche, Cote – Rotie, Condrieu Chateauneuf-du-Pape, Bayuls, Coteaux d'Aix, Tricastin and Roussillon appellations.
In addition to its own vineyards, M. Chapoutier controls the Vinification and often the cultivation of other Appellations which it commercialises : Cornas, Gigondas, Tavel, Muscat des Beaume de Venise In 1990 Michel Chapoutier took over the reins of this resolutely family-based and independent wines house.
Under his guidance, it has continued to spread towards other French wine regions, and has even broken through it's country's frontiers to breach wine making in the new world, especially Australia. It has also undergone a radical change in cultivation methods, as Michel Chapoutier, a fervent defender of the Soil, has converted the entire Domaine over to bio – dynamic cultivation.
Moreover, Michel Chapoutier's pioneering spirit can be excemplified by his humanistic and innovative use of Braille labelling and by the creation of the award for the Best Young Sommelier of France.
Cheers to the Blind – try some of these lovely wines made with passion
South of France
Bernard d'Assigny
Cave de Vinassan
Château Billot
Château de Capitoul
Château des Sarrines
Chateua de Lancyre
Circus
Cote a Cote
Domaine Leon Barral
Domaine Massamier

Domaine Mondie
Domaine Virginie
Faucon Bleu
Foncalieu
La Serre
Laroche
Le Beau Chene
Les Jamelles
Louis Latour
Marquis de Saporta

Marquis de Suret
Michel Laroche
Montarels
Moulin de Gassac
Robert Skalli
Terra Sana
Terrain
Vin de Pays de l'Herault
La Croix Chevaliere by M. Laroche

Michel Laroche had been watching the Languedoc with interest for over ten years when he found the right opportunity to invest and bought Mas La Chevalière in 1995. It is the region's quality that specifically attracted him, thanks to the combination of over 2000 years of viticultural history and the range of grapes, soils and climates.
Yves Barry, the winemaker, is French, but has considerable international winemaking experience. He works with Michel to produce a range of superior quality wines, each a true expression of its particular "terroir". From the first vintage, the wines have won international recognition and awards.
La Croix Chevalière is Michel Laroche's 'Great Red of the South', made in very limited quantities and only in the very best years. It reflects the real heights of quality found in the best vineyards of the South of France.
The Vineyard
Wine quality is firmly rooted in the vineyard and Richard Lavanoux, MLC's viticulturalist, has made it his mission to seek out the most exciting plots of vines across the vast vineyards of the South of France. Altitude, stony soil, precarious slopes and old vines are all things he looks out for on his constant tours of the region. He and his team work closely with growers to reduce yields, pick late and train the leaf canopy for maximum fruit ripeness. Mas La Chevalière even breaks the local tradition of paying for grapes by weight (which encourages vineyard owners to produce higher yields, potentially leading to lower quality), and instead pays by area of vineyard, giving growers real incentive to keep yields down in favour of quality.
The fruit for La Croix Chevalière is a blend of Syrah, Grenache, Mourvèdre and Cabernet Sauvignon, the proportions of which will change with every release to reflect the best fruit available. The Cabernet comes from the foothills of the Cévennes Mountains in the northern Gard, both the Syrah and Cabernet are taken from grapes in the Béziers region and the Orb Valley, the Grenache comes from the Maury vineyards in Roussillon, and Mourvèdre is from the Remoulins district of the Gard department. A high proportion of the grapes come from Mas La Chevalière's own vines.
The Cellar
The aim in the winery is to enhance the natural quality of the fruit. The grapes are all destalked and fermented at around 26 - 28ºC, with a yeast from the Rhône Valley. The young wine is left to macerate on the skins for around 3 weeks, and then run into barrels for the malolactic fermentation. It matures in French oak, with a high proportion of new barrels, for 18 months, where it is naturally stabilised in the cool cellar and then bottled unfiltered to preserve its complexity. It may throw a light deposit in time.
Serving
Deep ruby red in colour, with inviting ripe berry and black fruit aromas, notes of bitter chocolate and a whiff of smoky oak and spice. It is rich, ripe and velvety in the mouth, with masses of lingering cassis and blackberry fruit, lovely texture and a superb balance of tannin backbone and acidity.
Serve at room temperature, and open 1-2 hours before drinking. A wonderful accompaniment to spring lamb, roast game birds and rare beef. Its ripe generous fruit makes La Croix Chevalière enjoyable now, but it will also keep and gain complexity for another 8 years.
Just a selection of some of the great Vineyards like:
Bouchard - Chavy - Louis Latour - Louis Jadot - William Fevre - Baron Philippe Rothschild - Joseph Drouhin - Faiveley - Antonin Rodet - Engel - Domaine Claude Marechal - J Moreau - Laroche - Domaine R Luquet - Domaine Voarick - Domaine Lalande - Chateau de Jacques - Emile Chandesais - P David - Donatien Bahaud - Langlois Chateau - Alexis Deschamps - Paul Thomas - Jaboulet Vercherre - M Chapoutier - Barton & Guestier - Montesqieu.
...to name but a few!
Please ask for a quotation, details on these vineyards or a wine you can't find!