Wines from Lebanon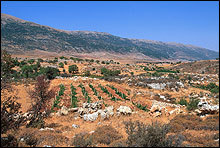 Bekaa Valley
Chateau Musar. Bekaa Valley - The Famous Lebanese Vineyard
Serge Hochar's father established a winery in the castle of Mzar north of Beirut in the Bekaa Valley in 1930. Serge gained much experience at Chateau Leoville Barton, so it is not surprising, that the red wine of Chateau Musar resembles a fine Bordeaux. It is blended from various proportions of Cabernet Sauvignon, Cinsaut and Syrah planted on the slopes of the Bekaa Valley 30 miles further east and is capable of many years bottle maturation.
Chateau Musar Newsletter, Summer 2009 (pdf)
Chateau Musar Red 2002 - now ready after 7 years careful cellaring,
50 years as The Maker: Serge Hochar's London masterclasses (Book at RI-wine),
Chateau Musar White 2003 - latest release of this unique wine from ancient, ungrafted vines,
Ronald Hochar - celebrating Musar's 'eminence grise' [read more (pdf)...]
Grape Varieties
Cabernet Sauvignon
Carignan
Chardonay
Chasselas
Cinsaut
Clairette

Gamay
Grenache
Muscat
Obaideh
Pinot Noir
Pinot Noir

Riesling
Semillon
Syrah
Ugni Blanc
Chateau Musar Current Vintages, 2003 White just released - Chateau Musar Red 2002, now ready after 7 years cellaring
| Wine | Vinatges | size |
| --- | --- | --- |
| Musar Cuvee | 2002 / 03 | 75cl, 37.5cl |
| Hochard Pere et Fils | 2002 | 75 cl |
| Château Musar Rose Wines | 2004 | 75 cl |
| Château Musar White Wines | 2001 | 75 cl |
| Chateau Musar Red Wines | 1999, 1998, 1997, | 1.5 Ltr., 75 cl, 37.5 cl |
| Chateau Musar Red Wine | 1956 - 1996 | 75 cl, 37.5 cl |
Chateau Musar
Chateau Musar. Wine Testing Note
Vintage 1997
available in Bottle and Magnum
A fairly normal winter followed by a fresh spring with no hail or frost and then a mild summer with a very cloudy and fresh August followed by a sunny September. These perfect conditions allowed grapes to mature slowly and surely at a pace rarely.
The harvest started on the 15th of September and ended on the 11th of October for the reds. However harvesting had to stop for about 4 days starting on the 30th of September because of rain. It was the slowest and best fermentation they had at Chateau Musard and by the 30th of September 805 of the harvest was in the cellar.
The wines were tasted on the 18th of November. Almost all malolactics were finished and wines looked ready for drinking. Very beautiful wines and even the whites were as good as the reds. All wines are big and very perfectly balanced whatever the cepage. Cabernet sauvignon, Carignan, Cinsault, Merwah and Obaideh.
Definitely a Vintage to follow very closely.
Mr. Serge Husar – November 1997: A rich, warm deep cherry red with smoky nose full of spices and fruits. On the palate there are mixed berry fruits – cherries, redcurrants, pomegranates and Christmas spices of cinnamon, nutmeg and cloves. Good acidity with good tannin levels results in a wine of classic structure with long ageing potential.
" The Chateau Musar 1997 will be familiar to all devoters of the deep, dark, rich, fleshy, fruity - aptly - cedary wine and it's scrumptious. "
Simon Hoggart – The Spectator Febr. 2004.
"Redcurrant scents, a clean, fresh, intense flavour, more drily curranty than is usual for Musar"
Andrew Jefford – Decanter Magazine Jan. 2004.
Limited Vintages Chateau Musar
Wine
Vinatges
size
Chateau Musar White

1991 - 2000

75 cl

Chateau Musar Red

1993 - 1996

75 cl, 37.5 cl

1991 & 1993

150 cl, 75 cl

1987

150cl

1986

150 cl, 75 cl

1985

150 cl

1983

150 cl

1982

150 cl

1981

75 cl

1980

150 cl, 75 cl, 37.5 cl

1979

75 cl, 37.5 cl

1978

75 cl, 37.5 cl

1977

75 cl, 37.5 cl

1975

75 cl, 37.5 cl

1972

37.5 cl

1970

75 cl

1969

75 cl

1967

75 cl

1966

75 cl

1961

75 cl, 37.5 cl

1960

75 cl

1959

75 cl

1956

75 cl

Older Vintages on White Wines are available, please ask for details