Wines from Portugal & Madeira
Tinta Caoa
Portugal has a long and sitinguished history, as a wine producing countrydating back to the timeof the phoenicians. There is ample evidence in the amphoraestill in use in Southern Portugal than Romans continued the wine making tradition, but Portugal's successas a wine producing nation is founded on tradeand by the 15th centurymerchant firms were already prospering in the north of the country and on the Atlantic Isaland of Madeira By the 18th centuryPort jhadv emerged as one of Portugal's laeding wine.
In order to protect it's authenticity, the duoro Valley ws delimited in it's own right in 1756 making it the world's first greatb demarcated wine region. The Duoro became a role- model for for other wine regions like Vinho Verde, Dao, Colares and Serubel were demarcated early this century
Vineyards from Portugal
Adrianos ramos Pinto
Altana
Casa Ferreirinhas
Casa Santos Lima
Duoro
Estremadura Herdade do Esporao

J.P. Vinhos, Azeitao
Jose Maria da Fonseca
Osborne & CiaQuinta da Boavista
Quinta do Carmo (Domaines Barons de Rothschild (Lafite)
Quinta de la Rosa
Quinta do Crasto

Quinta do Passaduoro, Pinhac
Quinta do Vollado
Ribatejo Almeirim
Sogrape Vinhos
Terras do Sado
Typical Portuguese Grape Varieties
Alvarinho
Arinto
Avarelhao
Bastardo
Chardonnay
Codega

Espadeiro
Malvasia
Periquita
Roupeiro
Tinta del Pai
Tinta Amarela

Tinta Barocca
Tinta Cao
Tinta Francisca
Touriga Francesa
Touriga Nacional
Vital
Taylor's Port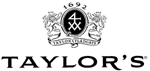 Jancis Robinson, MW writes: "Other shipper may excel from tim to time, but Taylor's proceeds at the head of the pack yearin, year out. This consistency is achieved through an extra density, concentration and sheer class."
In the oldest demarcated wine region of the world, Taylor's founded in 1692, is one of the longest continuously family owned Port houses. Indeed, the firm is still run by family members today ensuring a consistency of exceptional quality borne out by their wines.
Taylor's award winning range is respected across the whole gamut of Port styles, and is highly regarded for their aged Tawnies, especially Taylor's 20 year old which was recognised last year (2005) with the prestigious award of Decanter Magazine Port Trophy.
Despite the legacy or gradation, Taylor's has always been a company at the vanguard of innovations in the Duoro, having pioneered the commercial development of Late Bottled Vintage wines in the early 1970's All of which has led Taylor's to become the leeding premium Port brand in the UK
Fonseca Port

What does Robert Parker ( The Wine Advocate ) have to say : "The most excotic and most complex Port, which is lush, seductive character, one might call it the Pomerol of Vintage Ports."
Added to this James Suckling says : "Fonseca is the King of the Ports. It produces the best Vintage Port in everydecalred year, with very few exceptions"

Fonseca's reputation as a producer of some of the finest Ports ever made continous, and has undoubtedly benefited from the guiding hand of the Guimaraens family. David, the sixth generations Guimaraens, is following the example set by his forefathers and continues to make wins of power and finesse. Fonseca has anenvisable range of Ports including Guimareans 1987, one of the few mature Ports consistently available on the market, and the inimitable reserve blend BIN 27, a velvety Port with rich, luxurious black fruit and chocolate flavours.

Abe Ritter of RI – Wine of Ascot is recommending BIN27 as ' the best value for money Port ! '
Famous Port Houses
Bodegas Osborne
Burmester
Churchill
Cockburn
Croft
Delaforce
Dow's
Feist
Ferreira

Fonseca
Gould Campell
Graham's
Guimaraens
Nacional
Noval
Offley Boa Vista,
Offley Forrester
Quinta do Vesuvios

Quinta do Vollado
Ramos PintoRoyal Oporto
Rebello Valente
Rose's
Sandeman
Smith Woodhouse
Taylor's
Warre
Large variety of Vintage Port's available including 1945 Taylor's - Price List on request
Vintage Chart
| | |
| --- | --- |
| 1992 | A great, classic Fonseca vintage of typical fruit voluptuousness, and nearly suggestive of a barrel sample. The color is nearly black, with an intense, young fruit nose in which the spirit is still prevalent. Good structure and evident tannins promise excellent development in bottle. |
| 1985 | Nearly black in colour, and although extremely concentrated and tannic shows a fat voluptuousness from the exceptionally ripe and healthy berries. A very classic Fonseca in style, with rich, intense fruit and superb structure. Will need a good fifteen years before drinking well, and will certainly prove to be a very great vintage. |
| 1983 | Very dark in colour and fairly hard and tannic on the mouth, though maturing beautifully. If now closed on the palate, another ten years should bring it out of a dumb stage, and can be anticipated to be drinking well around 2015. Extended finish bides well for the future. |
| 1980 | This is relatively light for a Fonseca vintage, although it has generous flavours in the mouth, notably chocolate and plum. After 15 years it is beginning to come out of a closed phase, with delicious, delicate fruit flavors and a discreet nose. The tannins are integrated and soft, and the finish elegant. Should reach its optimum plateau around the turn of the century. |
| 1977 | Very, very big and still rather closed. This is a massive wine with very intense, concentrated and opulent flavours. Full of berry fruits and with excellent tannic structure, this is a wine for the next century. |
| 1975 | Not a great year, but the wine has good flavour and lovely, silky smooth fruit on the palate. Colour is starting to fade, and the wine appears to have reached a plateau where it should stay until the early 2000s. |
| 1970 | Still very young for drinking, the 1970 Fonseca is characterized by its vinous nose, tremendous lush fruit and soft voluptuousness in the mouth, with a very long, firm finish which holds great promise for the future. Should last at least until 2020. |
| 1966 | Very deep colour, and a firm tannic structure typical of the better '66s. Very full, plummy and fruity in the mouth with opulent, concentrated berry flavours. Will improve yet with age. |
| 1963 | Still has a deep ruby colour with a beautiful liquid velvet perfumey nose. Wonderful aromas of chocolate and honey with excellent fruit in the mouth, smooth, silky texture and an extremely long and lasting finish. Not yet at its best. |
| 1960 | The colour was undoubtedly affected by the rain, although this wine has stood the test of time much better than we had earlier envisaged. The nose shows notes of chocolate and the fruit is mature and rather light but very flavoury and with a soft aromatic palate. Has peaked and will soon begin its decline. |
| 1955 | Very much in the Fonseca character, this full, fruity vintage is still big in structure and full bodied with great depth of flavour. The nose is now nutty and the palate quite round and integrated. Drinking well now, but will last for some years. |
| 1948 | Still has tremendous colour and a flowery nose with hints of chocolate and almost pungent fruit. Still tremendous structure, with plummy fruit in the mouth and flavours of soft berries, but still a lot of tannin to live on. Will last many years yet. |
| 1945 | Very small vintage. The wine is full and conentrated, embodying the hot, dry weather of that year in its slightly roasted quality. Excellent balance and harmony on the palate, with a lovely finish though beginning to fade slightly on the nose. Fully mature, to drink now. |
| 1934 | Although still vigorous this classic vintage is starting to lose colour and fruit, although the fruit is still opulent, with notes of chocolate on the nose and a long, round finish of great persistence. The wine still retains a very complex structure on the palate and has retained remarkable firmness. |
| 1927 | A great classic vintage of this century. The wine is probably at its best now. Beautifully mature with rich ripe fruit and soft velvet in the mouth, remarkably fresh for its age. It leaves a long, lingering finish and is just beginning to fade slightly. The largest vintage ever declared by Fonseca, 700 pipes or over 40,000 cases. |
| 1922 | Lovely berry fruit and amazing structure for its age, though beginning to fade a bit on the nose and palate. Delicate, gently leafy notes on the nose with with elegant, mature fruit and long finish |
Information on older vintages can be obtained from RI-Wine.
Madeira

There are 4 basic types of Madeira, each named after the grape from which it is made. These are Sercial, which was once thought to be the Riesling grape and makes the lightest and driest Madeira. Verdelho, which is a tangy, medium sweet wine, with somewhat more body; Bual a definitely sweet style that has a baked, smoky complexity and Malmsey a lusciously rich, sweet and honeyed wine.
All Madeira's once bore a Vintage, but this is unusual today; most being blends or products of solera systems. If a pure Vintage from the 1980's were released, this would not happen until the first decade of the 21st century. Any such Vintage should be by definition, be superior. When it be sold, be it Vintage or not, Madeira should be ready to drink. Due to a combination of high alcohol and the estufagem baking process, however it has a virtually infinite shelf life

Price List on request - Large selection of " Old Vintage " Madeira's available.
Excellent Madeira Houses
Adegas de Torreao
Alvada Madeira
Barbeito
Blandy Brothers
Borgess
Cossart Gordon

de Silva
d'Olivera
Drury & Co
Havey's
H.M. Borges
J.R.T

Leacock
Lomelin
Power
Rutherford & Mills
Teixeira
Wine Regions of Potrtugal
Alcobaza
Alenquer
Alentejano
Algarbe
Arruda
Bairrada
Beira Interior
Beiras
Bucelas
Carcavelos
Chaves
Colares

Dao
Douro
Encostas d'Aire
Extremadura
Lafoes
Lagos
Minho
Mirandes
Obidos
PalmelaAlentejo
Planaltos
Port

Portimao
Ribatejano
Ribatejo
Setúbal
Tavira
Tavora / Varosa
Terrasdo Sado
Torres- Vedras
Tras – os – Montes
Valpacos
Vinho Verde
Wine Regions of the Islands
Madeira, Azores, Terceira, Pico, Graciosa, Biscoitas