Wines from California

The Spanish arrived in 1769 and California was part of mexcico until 1848 when it was ceded to the United states and becoming a statof the union in 1850.Wine stated to be made in1782 at San Juan Capistrano by Fathers Pablde Murgartegui and Gergorio Amurrio. Mission grapes from vines brought to California by Don Jose Camacho on the san Antonio, which dogged at San Diego on the 16 th of May 1778, were used to make the wine. Only in 1833 Jean- Louis Vignes established Californian's commercial winery. He imported wines from Europe and in 1840 became also the first exporter of Californian wine.
Californian Vineyards
Alban Vineyards
American Canyon Wine Co
Andrew Murray Winery
Arrowood
Atlas Peak
Au Bon Climate
Avila Winery
Bacio Divino
Beaulieu Vineyard
Beringer
Beringer Stone
Bonny Doon
Bonterra
Byron
Calera Winery
Callaway
Camino Cellars
Carneros
Caymus
Chateau Soverain
Chateau St. Jean
Cline
Clos de Bois
Clos du Napa
Clos La Chance
Cold Heaven
Coldwater Creek
Conundrum
De Loach
Delia Viader
Delicate Family
Dominus Estate

Elyse
Ernest & Julio Gallo
Estancia
Far Niente
Fetzer
Franciscan Estate
Frog's Leap
Gloria Ferrer
Hanna Winery
Heitz Cellars
Hopland Range
J. Lohr
J. Lohr
Jordan Winery
Joseph Phelps
Joseph Swan Vineyards
Kent Rasmussen
Kistler
Long Meadow Ranch
Luna
MacMurray
Mandolin
Marilyn Merlot
Marimar Torres
Mondavi
Monterey
Morgan Winery
Mount Veeder Estate
Mumm
Napa
Newton Vineyard
Oakville Winery

Opus One
Painter Bridge
Papapietro Perry
Peachy Canyon Winery
Quady Winery
Quintessa Rutherford
Qupe Winery
Ramey
Ramsay
Ravenswood
Ridge Vineyards
Robert Biale
Rutherford Hill
Sanford Winery
Santa Cruz
Sebastian
Sena
Sequoia Grove
Simi Winery
Sine Quannon
St. Francis
Stag's Leap Winery
Stags Leap
Stephens
Sterling Vineyards
Stone Cellars
Sutter Home
Viader
Wente
Williams Hill
New Wineries:
Tom Rochioli - Healdsberg, Livermore Valley, Belvedere, Havens Wines, Montevina, Eos, Flat Rack
Hidden Falls, River Crest, mirassou, Firestone, Rancho Zabaco, Macmurray, Zaca Maco, Copperidge,
Rancho Zabaco, East Dell Estate, Blackstone Winery,
Califronian Grape varieties
Aleatico
Alicante Bouschet
Barbera No.5
Black Malvoisie
Burger
Cabernet Franc
Cabernet Sauvignon No.2
Carignan No.8
Charbono
Chevrier
Early Burgundy
Chenin Blanc
Emerald Riesling
Flora Red

Flora White
French Colombard
Gamay
Gray Riesling
Green Hungarian
Grenache No.4
Johannisberg Riesling
Malbec
Mataro
Merlot No.3
Muscat Blanc
Muscat Canelli
Palomino
Petite Syrah No. 10

Pinot Noir
Pinot Noir No.7
Rubired No.6
Ruby Cabernet
Ruby Cabernet No.9
Sauvignon Blanc
Semillon
St. Emilion
Syrah
Chardonnay
White Riesling
Fume Blanc
Zinfandel No.1
Wine regions of California
Benmore Valley - San Lucas - North Central Coast - Central Valley - Sierra Foothills - South central Coast - Southern - California
Medocino County
Potter Valley - Anderson Valley - Cole Ranch - Redwood Valley
Sonoma County
Sonoma Mountain - Dry Creek valley - Alexander Valley - Knight valley - Russina River Valley - Chalk Valley - Sonoma Country Green Valley - Sonoma Valley - Carneros
Napa County
Napa Valley - Carneros - Spring Mountain District - Mount Veeder - Rutherford - Oakville- Howell Mountain - Stags Leap District - Atlas Peak - Wild Horse Valley
North Central Coast
Livermore Valley - Santa Cruz Mountains - Pacheco Pass - Cienega valley - Lime Kiln Valley - Monterey - Paicines -San Yisdro - Santa Clara Valley - Mount Harlan - Carmel Valley - Chalán - Arroyo Seco
South Central Coast
York Mountain - Paso rRobles - Etna Valley - Santa Maria Valley - Sanat Ynez Valley - Arroyo Grande
WINE HISTORY Conundrum 2002/0 3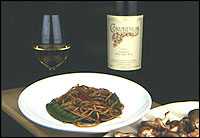 Conundrum "Wine & Food"
Conundrum was born from a core idea: why couldn't a wine mirror--in complexity and creativity--the dishes being invented by a new generation of chefs who had no allegiance to the traditions and rules of the past? For the first vintage, 1989.
After experimenting with eleven different white wine grapes Jon Bolta chose the three that he still considers the main wine ingerediants: Sauvignon Blanc, Chardonnay and (for its intriguing floral/tropical character) Muscat Canelli. Then from his 'spice cabinet' he added small amounts of Semillon and Viognier to complete the combination and hopefully- solve.
The eponymous conundrum. The proportions vary slightly in each vintage but the goal is always the same: a highly styled wine that is excellent as an aperitif and pairs beautifully with the wide range in, global dishes we are eating as chefs continue to experiment.
Carneros Vineyard

Carneros Brut
Domaine Carneros was established in 1987, a joint venture between Champagne Taittinger and Kobrand Corporation - one of the foremost players in the U.S wine industry. This impressive venture was a fulfilment of Claude Taittinger's dream after he visited the Carneros region and realised its potential to produce world class sparkling and still Pinot Noir wines.
All the wines from Domaine Carneros are made from 100% Carneros fruit.
When founding Domaine Carneros, the intent was to focus specifically on sparkling wines. However the Pinot Noir fruit produced on the Domaine Carneros estate vineyard was of such high quality that a still wine was produced. 1992 saw the inaugural vintage of the highly acclaimed Famous Gate Pinot Noir.
The winery also houses an excellent visitor centre and runs a wine club in the U.S.A which offers exclusive food and wine events to members.
St. Francis - The Winery with 'The big red's'
The story of St Francis began in 1971 when Joe Martin turned from white-collar executive to grape grower with the acquistion of the 100-acre Behler ranch vineyard in Sonoma County in the historic town of Kenwood
Lloyd Canton joined Joe in 1972 as his partner and together they grew grapes and sold their fruit to local wineries until 1979 when they completed their own winery named after Saint Francis of Assisi .
St Francis wines are made only from Sonoma Valley fruit and are an exceptional expression of the complex relationship between soil, climate and site.
Over the years St Francis has established itself as a winery of distinction producing handcrafted wines of depth and elegance. The carefully selected vineyard locations, temperate growing season, proper varietal selections plus the knowledge and dedication of the vineyard and winery staff, under the supervision of Tom Mackey, ensures the required continuity of supply of St Francis wines.