Wines from Australia
Vineyards from Australia
1896 Wine Company
Annie's Lane
Arrowfield
B.R.I. Hardy
Barossa Valley Estate
Belleville Estate
Beresford
Bimbadgen Estate
Brangayne of Orange
Bridgewater Hill
Brookland Valley
Brown Brothers
Cape Mentelle
Caselle Wines
Chain of Ponds
Chateau Reynella
Clairault
Copeland Estate
Cranswick Estate
Crawford River
Crestview Estate
Crystal Brook
Dalwood
D'Arenberg
Deakin Estte
Eaglehawk
Echo Point
Elderton
Evan's & Tate
Glenguin
Grajow
Grant Burge
Green Point
Hanwood Winery
Henschke

Hidden Vale Wine Co
Houghton
Howard Park
Ironstone
Jacob's Creek
Jameson
John James McWilliam
Katnook Estate
Katnook Estate Odyssey
Knappstein
Leasington
Lindeman
Madfish
Maurice O'Shea
McWilliams
Meerea Park Estate
Merrill, Geoff
Miranda
Mitchelton
Mount Pleasant
Mountadon
Nick Faldo
Nottage Hill
Nunc East
One Tree Hill
Opel Ridge
Orlando Winery
Pendarves Estate
Penfold's
Petaluma
Preece
R. Hamilton
Redvale
Richard Hamilton
Riddoch Estate

Rosemount Estate
Rothbury Estate
Rovalley Ridge
Salisbury
Sandalford
Simon Hackett
Skillogalee
Somerset Hill
St. Hallett
Stonehaven
Stonier Wines
Stringy Brae of 7 Hills
Tahislo
Tallara Wines
Taltarni
Tarra Warra Vineyard
Tatachilla Winery
The Drainings
Thomas Mitchell
Thorne - Clarke
Thorne Hill
Tim Knappstein
Torbreck
Tyrell's
Wakefield Estate
Wilabalangaloo
Willow Bridge
Wirra - Wirra
Wolf Blass
Wynn's
Yalumba
Yarra Burn
Yellowglen
New Wineries added 2006/07
Aldridge Estate
Amicus
Bella
Berton Vintners
Berton Reserve
Bet's
Blackwood Ridge
Bonsai Vineyards
Broken Earth
Broken Shakle
Buller R. L.
Campbells of rutherglen
Colonial
Curralbridge Wines
David Franz
Dean Hewitson
Devill's Lair
Domaine Chandon
Domaine Vale
Elderton Vineyards
Faldo Estate

Foundstone
Frankland
Giant Step's
Glacanda
Graiglee
Great Western
Head over Heels
Hills View
Innocent Bystanders
Jacka roo
Kingston Estate
Leasingham
Little Creature
Llangibby
Majelles Wines
Magan Family
McHenry Hohnen
mcLaren
McWilliams Hannwood
Moodah Brook
Moondarc

Nuga Estate
Oakwood
Penny's Hill
Plunket Wine
Saddle Creek
Seranfina
Shadofix
Shelmerdaime Viny.
Simon Gilbert Wines
Stanton & killeen
Step Road
Stella
Sticks
Strathrogie Ranges
Tapanappa
Tiddy Widdy Well
Torbeck Vintners
Tournon Chapoutier
Turky Flat
Two Hands
Yarra Valley
Australian Grape Varieties
these are some of many which you find in this country. If you want to know more about Australian grapes, send me an e-mail.
Cabernet Sauvignon
Chardonnay
Chasselas
Clairette
Colombard
Crouchen
Doradillo
Frontignan

Grenache
Marsanna
Mataro
Muscat d'Alexandrie
Mourvedre
Palomino
Pedro Ximenez
Pinot Noir

Rhine Riesling
Sauvignon Blanc
Semillon
Shiraz
Muscadelle
Gewuerztraminer
Trebbiano
Verdelho
Should you be interested in one or the other vineyards listed above, please send us an e-mail or give us a ring.
The price list is availiable on request.
If you are looking for rare Vintages from Penfold ( Grange ), Henschke ( Hill of Grace ), Lehman, Clarendon Hills Greenock Creek , Two Mills Creek, Fox Creek Parker or any other - please get in touch.
Artisans of Barossa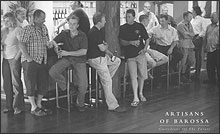 Artisans of Barossa is a group of like-minded Barossa producers with a common goal to market hand-made, high quality and creative products - wine, olive oil, produce - as a collective body in both domestic and international markets.
RI-Wine of Ascot is pleased to announce that we have linked to these winemakers and offer their range of wines - of outstanding qualities - in the UK and abroad. Artisan of Barrossa wines
SIMON HACKETT " Vineyards "
Barossa Valley
Situated eighty kilometres north of Adelaide in the Barossa Valley, there are two vineyards from which I source fruit. The Brightview vineyard is located in what is termed ' the valley floor ' between the townships of Tanunda and Nuriootpa. This vineyard yields Semillon from two separate plantings. One plot was planted in the 1950's, the other from Semillon cuttings grafted onto Riesling root stock. I believe this root stock enhances the wine citrus flavour.
My Chardonnay is also grown in the Brightview vineyard
The second vineyard is situated near the township of Angaston. Here I am lucky to have a small vineyard which was planted to Shiraz vines in the 1890's. From these very low yielding but ex-tremely high quality bearers comes a limited release single vineyard wine.
McLaren Valley
I have four vineyard sites fifty kilometres south of Adelaide. The largest vineyard, just west of the township if Willunga, was planted in the early 1990's to Shiraz, Cabernet Sauvignon and Grenache vines. Further east, in the foothills of the Willunga Ranges and nestled between rolling hills and aged gum trees, I source Cabernet Sauvignon and Shiraz from vineyards planted in the mid 1980's.
Closer to the township of the McLaren Vale I take Cabernet Sauvignon grapes from vines planted in the 1960's. Further east towards the hamlet of McLaren Flat I have Grenache vines planted in the 1950's. Nearby is the legendary Foggo Road vineyard planted in 1924. Only small quantities are harvested from the low yielding Cabernet Sauvignon vines.
Adelaide Hills
Situated fifty kilometres south east of Adelaide in the cool region of the Adelaide Hills I haveestablished a ten acre property planted to Cabernet Sauvignon and Shiraz . This low yielding, cool climate vineyard is designed to grow high quality grapes. I look forward with greatexcitement to our first vintage year.
SIMON HACKETT " The Winemaker "
The Simon Hackett story goes back well before the establishment of Simon Hackett Wines. Four generations of the Hackett family followed agricultural pursuits in South Australia. In 1860, Simon's great uncle attended the esteemed Roseworthy Agricultural College whilst Simon's father was a graduate in the inaugural Oenology Course at the college in 1938.
Simon grew up in an atmosphere steeped in wine, spending his boyhood in the Barossa Valley Distillery, Tarac International. The family home was situated next to the sprawling Saltram Winery outside Angaston.
Given this environment, it was not surprising that Simon, at the age of eighteen, elected to follow a career in winemaking and joined the team at the neighbouring Saltram Winery.
Serving his apprenticeship under the watchful eye of master winemaker Peter Lehmann, Simon progressed through the ' Saltram's Ranks '. In 1970 he completed a vintage in the Hunter Valley Region of New South Wales, before returning to the Saltram Winery for an- other two years.
In 1973 Simon decided to move to McLaren Vale thus his association with the region began and continues today. Simon's first Vintage in McLaren Vale was at the Southern Vales Co- Operative Winery, where he worked with the outstanding winemaking team of Grant Burdge and Ian Wilson. After eight years he was appointed Senior Winemaker at Southern Vales Coperative Winery, now known as Tatachilla Wines.
In 1984, Simon decided to leave Southern Vales Winery and concentrate fully on establishing his own boutique winery situated in McLaren Vale.
Once out on his own, Simon re-established his links in the Barossa Valley and today crushes grapes grown in McLaren Vale, Barossa Valley and the Adelaide Hills regions of South Australia.
Why don't you try Simon's " Anthony's Reserve Shiraz 2000, 6 Btls. £ 68.95 plus VAT

If you would like any more information, please do not hesitate to contact us.