Wines from Greece
Between the thirteenth and eleventh centuries BC, long before a single vine existed in what are now the most famous wine regions of the world, Greek viticulture was at it's peak and together with wheat and olives, was of fundamental importance for the economy.
Vineyards
Available stock in the UK
5 white wines, 7 red wines,
Grape Varieties
Agiorgitiko
Athiri
Cabernet Franc
Chardonnay
Cinsaut
Grenache

Liatica
Limnio
Malvasia
Muscat d'Alexandrie
Petite Sirah
Pinot Noir

Rhodities
Robola
Sauvignon Blanc
Vilana
The Boutaris family
Loannis Boutaris
The Boutaris family has been a powerful force in the Greek wine industry since Loannis Boutaris released his first Naousa in 1879. The first to bottle wine in the region, Boutaris created a legacy that has grown with each new generation. Headquartered in Thessaloniki , Ioannis opened his first winery and cellars in Naousa in 1906.
In 1935, Ioannis' son Stelios took over the operation, expanding an already growing product line into foreign markets. Under his management the family business achieved the strong domestic position it enjoys to this day.
In the late 1960s Stelios' sons Yiannis and Konstantinos took over the operation. With Yiannis overseeing oenological matters and Konstantinos heading marketing, the Boutaris turned the business into a winemaking powerhouse. During a period when Phyloxera ravaged Naousa, the pair purchased their own vineyards, beginning a capital expansion that ultimately culminated in the creation of a network of wineries that inhabit nearly every important wine producing region in Greece . In addition to wineries in Naousa, Goumenissa, Santorini and Arhanes, Crete , the company has acquired the Cambas label and has properties or joint ventures in Attika and Mantinia. Today, something of a beverage conglomerate as well as a wine company, the Boutari Group produces about 15 million bottles annually and exports to 38 countries.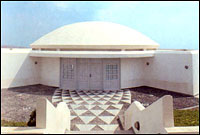 Santorini
The nineties saw a new management direction, occasioned in part by the departure of Yiannis to pursue his dream of estate-level production. A new generation, in the form of Konstantinos' daughter, Marina, now Director of Corporate Communication, insures the continuation of a family enterprise even as the public Boutari Group continues a historical involvement in beverage importation and its diversification into beer production.

During the last decade the Boutaris' have pursued viticultural and enological research in conjunction with the NAGREF Wine Institute. According to the company, research and development are a heightened focus whose aim is to improve their own products as well as Greek wine generally.

Naousa has always been the Boutaris' spiritual and commercial center. The Boutaris' were not only instrumental in the revival of this region of rich viticultural heritage, they are also largely responsible for the establishment of its appellation status. Even in this highly competitive area, there are winemakers who speak of their debt to Yiannis Boutaris in particular. Despite serious competition from both small and large producers, for many Boutaris is Naousa still.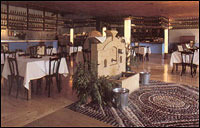 Taverne @ Boutaris
Under the direction of the brilliant Yiannis Voyatsis, winemaking and product development are headed north. While preserving its base of traditional Greek appellation wines, the Boutari product line is inching towards international styles.
A Peloponesian Cabernet, Cretan Savignon Blanc and Chardonnay and Naousan Syrah and Merlot reflect adaptation in the increasingly cosmopolitan domestic Greek market as well as a trend-conscious export philosophy. More significantly, Greek varietals show encouraging seriousness and creativity. In recent years a "nouveaux" Agiorgitiko has appeared, as well as boutique-styled Savatiano and Malagouzia from the umbrella'd Chateau Matsa just outside Athens.