Wines from Spain
Vineyards from Spain
Abadal
Albor
Allende
Artado
Bell munt de Priorat
Berberana
Bodega Miguel Merino
Bodega Vina Bajoz
Bodegas Albania
Bodegas Alvarez y Diez
Bodegas Alzania
Bodegas aragonesas
Bodegas Aragonesas
Bodegas Arzuaga
Bodegas Arzuaga Navarro
Bodegas Beronia_
Bodegas Biedo
Bodegas Campillo
Bodegas Condesa de Leganza
Bodegas Corral
Bodegas Faustino
Bodegas Faustino Rivero Ulecia
Bodegas Fortius
Bodegas Gandia
Bodegas Gonzalez Byass
Bodegas Gutierrez Colosia
Bodegas Herederos Argueso
Bodegas Hermanos Perez Pascuas
Bodegas Huguet
Bodegas Julien Chivite
Bodegas La Val
Bodegas Lopez de Heredia
Bodegas Luis Canas
Bodegas Magana
Bodegas Marques de Caceras
Bodegas Marques de Murrieta
Bodegas Mauro
Bodegas Miguel Calatayud
Bodegas Miralvalle
Bodegas Montecillo
Bodegas Muerza
Bodegas Museum
Bodegas Neceas

Bodegas Nekeas
Bodegas Olarra
Bodegas Palacios Remondo
Bodegas Pinoro
Bodegas Remelluri
Bodegas Sanchez Romate
Bodegas Valminor
Bodegas Vinda Antonio Borrego
Buil & Gine
Campo de Viejo
Campo Viejo
Campo Viejo
Casa Castillo
Casa de la Ermita
Castella y Leon
Castellblanch
Castillo de Betera
Cava Castel de Vilarnau
Cervoles Cellar de Cantonella
Conde de Caralt
Conde de Valdemar
Condesa de Leganza
Condestable Crianza
Contino-Criadores
Cune
David Moreno Pena
Dinastio Vivanco
Dominio de Montalvo
Don Carlos
Don Darias
El Coto
El Muro
Elqido
Enate
Falset Macra
Family Bodegas Eguren
Faustino
Finca Allende
Finca Antigua
Finca Sobreno
Finca Valpiedra
Fortuis
Freixenet

Fundador
Gran Alanis
Gueta Lupia
Gueta Lupia
Imperial
Iverus
Jean Leon – Pago
Jean Leon – Terrasola
Las Campanas
Lopez Hermanos
Luis Gurpegui Muga-
Manuel Manzaneque
Marques de Arienzo
Marques de Murrieta
Marques de Riscal
Marques de Vittoria
Mas d'en Compte
Mascaro
Nunc Est
Ochoa
Ondarre
Pesquera
Pinord
Precioso
Principe de Viana
Rene Barbier
Rias Baixas
Roses Vila
Siglo
Torres Vina de Sol
Valdemar
Valdubon
Valformosa Winery
Valtravieso
Vina Alcorta
Vina del Alba
Vina Real
Vina Solorca
Vinas del Montsant
ViontaAlbarino
Xavier Chia
Wine Regions
Green Spain
Castile - Leon
North Central Spain
Catalonia and the Balearin
The Levant
The Mesetra
Andalucia and the Canaries
Antonomous Communities ( 17 off )
Andalucia
Aragon
Asturias
Balearic Islands
Canary Islands
Cantabria

Castile-leon
Castilla-La Mancha
Catalonia
Extremadura
Galicia
Madrid

Murcia
Navarra
The Basque Country
La Rioja
Valencia
Grape varieties
Airen
Albarino
Albillo
Alcanon
Alicante
Aragon
Bobal
Carinena
Cencibel
Garnacha Tinta
Garnacha Tintorera
Godello

Graciano
Juan Garcia
Listan
Listan Negro
Loureira
Macabeo
Malvasia
Manto Negro
Mazuelo
Merseguera
Monastrell
Moristel

Moscatel
Negramoll
Palomino
Pansa Blanca
Parellada
Pedro Ximenez
Tepranillo
Verdejo
Viura
Xarel-lo
Classification
Vino de Mesa ( VdM ) - Simple Tabel Wine
Vino de Mesa de ..... ( Tabel Wine followed by the region )
Vino comarcal ( VC or CV ) - Regional Wine
Vino de la Tierra ( VdlT ) - Wine of The Land ( Country Wine )
denominacion de Origen ( DO ) - Main Quality Wine ( Total 54 Zones )
Denominacion de Origen Calificada ( DOCa ) - Higher Category of Quality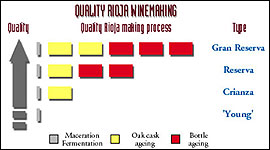 Ageing of Wine
| | |
| --- | --- |
| Crianza | Six months in casks and full 2 yewars undergoing Crianza |
| Reserva | Wines must be developed for a minimum of 3 years in oak and minimum of two years in the bottle. |
| Gran Reserva | Made only in the finest Vintages. At least 5 years in the cellar - at least two years in oak and three year in the bottle. |
| White and Rosado Wines | Require at least six months in oak |
El Coto Winery - a success story in the heart of Rioja
A wine cellar that only produces Rioja wines of quality.
At present, El Coto de Rioja is reckoned to be one of the leading 'bodegas' in Spain, and their wines are exported throughout the world.
El Coto is located in Oyon (Alava), with a total area of 110.000 sq.m, more than 50.000 of which are occupied by buildings. Stainless Steel Tanks up to 450.000 Ltr. Approximately 15 million bottles of oak aged red wines rest silently in the El Coto cellars.
The vineyards are located in Cenicero (Rioja Alta), close to the Najerilla river (a tributary to the Ebro river), facing Northwest and with a, predominantly, ferric-clayey soil. The rest of the grapes come from selected winegrowers in Rioja Alavesa.
All the grapes are fermented in temperature controlled stainless steel tanks. El Coto is currently using some 23 millions kg of grapes per annum.
El Coto facilities are equipped with an automatic temperature and humidity control, which guarantees the right conditions for the bBottle and oak ageing periods.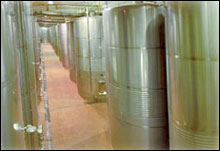 Oak ageing facilities count for 70.000 oak barrels (Bordeaux type: 225 litres capacity), 90% of them being of American origin, the remaining 10% being French. The average time of utilisation of the oak barrels at El Coto de Rioja is 4,9 years from their elaboration date. These oak barrels are kept in perfect shape, as they are washed and manipulated automatically. The barriques don't ever touch the ground.
El Coto has preserved the same architectonic style for all the buildings at the premises, with the goal of making El Coto de Rioja, not only a winery, but also a harmonious complex, ready to welcome the increasing number of visitors every year.
El Coto de Rioja started as the personal project of a small number of people whose prestige in Rioja was already then widely reckoned. Nowadays, nearly all of them still work here and control the 'bodega', but new people have also been joining in so that the bodega's continuity and development is guaranteed. El Coto de Rioja vinified its first grapes in 1970, and this vintage was released in 1975.
In July 1997 Barón de Ley became the first public winery group in Rioja to come up in the Spanish stock exchange as part of the Barón de Ley group.

El Coto history has been and still is one of continuous improvement and development, and aiming at this, all the resources generated by their activity have been automatically reinvested. This is a basic line in El Coto policy as a 'bodega' that is all the time seeking to improve its wines and its activities.

Awards Crianza / Reserva

We are delighted to inform you that El Coto wines Museum Crianza 2001 and Museum Real Reserva 2001, have been rewarded with a Silver medal by the Concours Mondiale de Bruxelles (www.concoursmondial.be) . These awards underline the excellence of the 2001 vintage, severely marked by a frost in late May that reduced dramatically El Coto's yields but also provided them with a tremendous ripening and concentration.
More medals were received at International London Wine Trade Fair. Recently Museum Real Reserva 2001 won a Gold Medal in Ireland.
We stock Museum Real Reserve 2001 - a Great Vintage!