Wines from Germany
Vineyards from Germany
Alfred Bonnet
Balbach Estate
Bassermann – Jodan
Bentzel Sturmfeder
Carl von Schubert
Castell
Deinhard
Deutz – Able
Doctor H. Thanisch
Donhoff
Dr Loosen, Wolf
Dr. Buerklin Wolff
Dr. Loosen
Dr. Pauly Bergweiler
Egon Mueller
Ferdinand Richter
Friedrich Wilhelm Gymnasium
Fritz Haag
Fritz hesselbach
Geltz Zilliken
Geschwister Simon
Gunderloch
H. Schmitt & Soehne

Helmut Donnhof
Henkel & Soehnlein
Hohenlohe
Horst sauer
J.J. Pruem
J.L. Wolf
Johannes Leitz
Johner, Karl H.
Josef Leitz
Joseph Stitzinger
Karlsmuehle
Karthaeuser Hof forth
Klaus Keller
Kloster Eberbach
Lange & Scharf
Max Ferdinand Richter
Maximin Grunhaus
Moenchhof
Mueller Catoir
Paul Annhaeuser
Paul Fuerst
Prinz Hohenlohe
Reh Kendermann

Reichsgraf von Kesselstatt
Robert Weil
Robert Weil
Rudolf Mueller
S. A. Pruem
Schloss Johannisberg
Schloss Johannisberg
Schloss Lieser
Schloss Vollrads
Schlossgut Diel
Schmitt & Soehne
Selbach Oster
Sybille Kuntz
Tesch
Villa Gutenberg
Weingut Heymann Loewenstein
Weingut Karthaeuserhof
Weingut Kuenstler
Weingut Selbach Oster
Weingut von Hoevel
Weingut Willi Schaefer
Weingut Willy Haag
German Wine Regions
Ahr
Baden
Franken
Hessische Bergstrasse
Mittelrhein

Mosel
Nahe
Pfalz
Rheingau
Rheinhessen

Ruwer
Saale-Unstrut
Saar
Sachsen
Wuerttemberg
Notes: * the last two regions are in the former east

Guntrum Winery - Nierstein
Quality Structure Overview
Table Wine
Country Wine
Quality Wine from specific areas ( QbA )
Quality Wine with Praedicat ( QmP )
Kabinett
Spaetlese
Auslese
Berenauslese
Eiswein
Trockenbeerenauslese ( TBA )
The famous Grapes of Germany
Bacchus
Dornfelder
Faberrebe
Gewuerztraminer
Grauburgunder
Gutedel
Huxelrebe
Kerner

Lemberger
Mario-Muscat
Mueller-Thurgau
Muskatelle
Optima
Ortega
Pinot-Meunier
Portugieser

Riesling
Rulaender
Scheurebe
Silvaner
Spaetburgunder
Traminer
Weissburgunder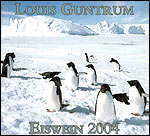 Ice Wine by Guntrum
Guntrum - "A Legend Along The Rhine"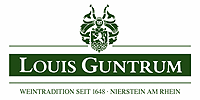 Tradition since 1648
From the Town of Woerrstadt to Nierstein.
8 Generation to achieve and being able to produce some of the finest German Wines.
Top quality year by year,
Total care starts at the vines in the vineyard right to the end at the time when the finest
juice is filled into the bottle and shipped to the furthest corner of the World.
Reliability, service and a premium selection are some of the aims of the Guntrum Family.
What more can you expect from a vineyard which still includes tradition and year on year
produces an excellent drop of wine which you won't forget.
From the finest Riesling to Penguin Ice wine.
Oppenheimer Sacktraeger, Herrenberg, Hiersteiner Oelberg, Hipping and Pettenthal are some of the finest vineyards and are part of the Guntrum Holdings, only to name a few.
RI – Wine of Ascot is proud to have these fine wines on offer.
2004 Guntrum Dry Riesling
The latest addition to the portfolio of fine wines from Louis Guntrum initiated by Julius Barratt of Australian Wineries. 2004 Guntrum Dry Reisling is the counterpart to our world success Guntrum Riesling Royal Blue Bottle. The classic and elegant yet modern and easy understandable label and package is paired with a most appealing and delightful wine.
Typical characteristics of Riesling like green apple and pears, combined with a vivid yet harmonious acidity make this wines a perfect proposition as aperitif, lunch- and dinner-/evening wine. All sorts of seafood are a perfect match as well as meat with white sauces.
The grapes for 2004 Guntrum Dry Reisling were harvested at Spaetlese quality level to provide full-bodied and rich texture and harmonious acidity. The grapes originate from our Niersteiner Pettenthal vineyard. We recommend to serve this wines at a temperature of 8° to 10° Celsius.
Riesling - The Famous Grape of Germany
| | |
| --- | --- |
| Name: | GUNTRUM DRY RIESLING |
| Estate: | Best sites, south and southwestern slopes. |
| Region: | Rheinhessen, Germany. |
| Grape: | RIESLING - best white varietal. |
| Soil: | Loam and clay, rich for full-bodied wines. |
| Quality: | Qualitätswein bestimmter Anbaugebiete (Q.b.A.) chaptalized like AC France, DOC Italy. Minimum 62Oechsle, at Louis Guntrum 70 Oechsle. |
| Taste: | Lovely dry. A beautiful racy and pure Riesling, white flowers bouquet on the nose, medium body, powerful fruit character in the mouth balanced with fresh acidity. |
| Analysis: | 12 % Alc., 5,8 g/l sweetness, 5,4 g/l acidity. |
| Viticulture: | Traditional vines, grafted, natural cultivation, mineral fertilizer, pronounced varietal quality. |
| Vinification: | Healthy grapes, natural sedimentation, minimal mechanics, cold fermentation at 15 C, cultured yeast, cold sterile bottling. |
| Enjoy: | Any occasion, from aperitif to after dinner. |
| Temperature: | 8-10 Celsius. Serve chilled, not iced. |
Professor Ritter, an uncle of Abe Ritter (Partner of RI-Wine of Ascot), was a member of the Research and Development Institute of Geisenheim near Frankfurt and managing The Viniculture Department between 1951 & 1964.