Veuve Clicquot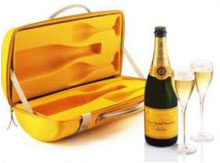 Travel Bag and Contents
Veuve Clicquot Exclusive
Travel Bag
Presentation Outer Case. Soft Travel Bag including
1 Btl. Veuve Clicquot Yellow Label N.V.
2 Champagne Flutes including Clicquot Logo.
Inner moulding can be removed becoming a Travel Bag
Size: 46 x 30 x 15 cm
Price incl. VAT £ 69.95
City Traveller incl. VAT £ 36.95
Travel Bag ready as a Gift
Travel Bag

Travel Bag Remove

inner Moulding
---
Ice Cube Porsche Design - 2009 Collection
The Ice Cube is a new product for 2009 designed in association with Porsche Design, it holds 1 bottle of YL and 4 trendy flutes. The "cube" itself functions as an ice bucket incl. Handle and Lid.
Concept and idea for use is that people can enjoy chilled VC at summer events, take it with them on picnics, outdoor concerts, etc.
Price: 64.95 incl. VAT
---
Other Gifts from Veuve Clicquot
Clicquot Ice Jacket (for cooling your Champagne ).
Clicquot Ice Box (to chill your champagne).
Clicquot Paint Box - 6 of 20 cl Champagne bottles in one paint contaigner
Large bottles from 3 to 15 ltrs (Special order)
Clicquot Cellar Master 's Colection
La Grande Dame vintage and Rose vintage
Have you seen the City Traveller from Veuve Cliqout?
Price incl. VAT £ 36.95
All prices incl. VAT