Magnum 1.5 Ltr
£77.95 incl. VAT
Plain Wooden Gift Boxes
incl. Silk Lining
available between
£9.95 & £15.95 incl. VAT
Moet & Chandon - Swarovski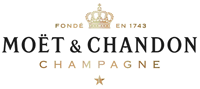 Moet & Chandon is the world's leading champagne brand. With the region's extensive vineyards and several centuries of expertise, the Moet name guarantees consistent quality across the range. Enjoyed by aristocracy and celebrities alike, the brand embodies on overwhelming sense of style. It is unsurprising therefore, that Moet & Chandon, the ultimate Champagne, is consequently on everyone's lip.
MoEt Sparkles Up for any OCCAssion … and shows off its brand new clothes!
Available in 2008:
Moët & Chandon introduces the latest limited edition crystallised collection, created exclusively with Swarovski. We are also unveiling our brand new clothes! Our first re-design of the label for over 150 years!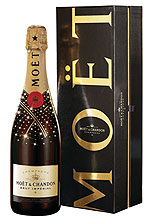 Swarovski Gold
Bottle size 75cl
£52.95 incl. VAT
Available for the first time in both a full-on-fabulous jeroboam and in our perfectly formed Mini Moët, we are covering this celebratory champagne with beautiful crystals.
The 'Moët Swarovski Collection' has been created to add a bit of sparkling glamour to any special occasion and should be shared in a romantic tête à tête, enjoyed with friends and family, or purely as an eye-catching addition to the festive season.
The technology used to create this bottle is unique and was co-created by Moët & Chandon and Swarovski. 'Crystal-it' technology has been produced to withstand contact with water.
Just Arrived in time for Christmas
Gold Crystals!!
MoEt Gold Coffret containing 1 Bottle 75cl of Moet ET Chandon Brut Imperial including Gold Swarovski Crystals!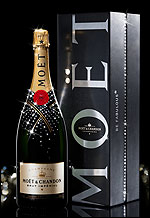 Bottle size 75cl
£52.95 incl. VAT
£46.95 incl. VAT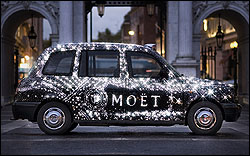 Next Day delivery throughout the UK Worldwide
Service with AmWorld
ISOBAG - The Carrier for the Swarovski
75 cl Bottle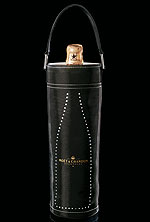 Isobag with Swarovski
Crystals, 75 cl
£42.95 incl. VAT
The material used for the ISOBAG is the same as for the Airbag in your Motor Car. In this case it is used to keep your chilled bottle for approx. 2 hours and ready to drink. It is of a stylish design and a lovely Gift Pack at the same time , Be Fabiolous
Large Formats
Swarovski in Partnership with Moet et Chandon have been very popular abd we are very pleased, that we still are able to provide stock.
We have just included for Partis and Special Occasions 2 larger sizes incl Wooden Boxes printed with the Moet and 'Be Fabiolus' Logo.
---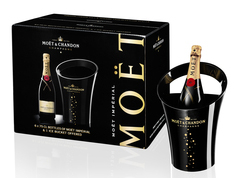 Shipper bucket with bottle
£ 59.95 incl. VAT
Moet et Chandon Swarovski Ice Bucket
1 Btl. Moet et Chandon including Swarovski Crystals, 75 cl
1 off stylish Ice Bucket incl cut out handle in black
1 Gift Box
---
3.0 Ltr Jeroboam (4 Bottles) incl. Black Wooden Box with Moet et Chandon and 'Be Fabolous Logo on the outside
Price £202.95 incl. VAT
---
6.0 Ltr. Methuselah (8 Bottles) incl. Black Wooden Box with Moet et Chandon and 'Be Fabolous Logo on the outside
Price £412.95 incl. VAT
---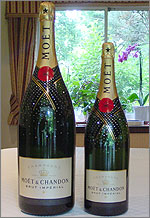 Giant Swarovski
3 Ltr - Jeroboam
£ 202.95 incl. VAT
6 Ltr. Methuselah Swarovski
£ 389.95 incl. VAT
Do you know the names of all the different sizes of Champagne Bottles?
Magnum (2 Bottles)
Jeroboam (4 Bottles)
Rehoboam (6 Bottles)
Methuselah (8 Bottles)
Salamazar (12 Bottles)
Balthazar (16 Bottles)
Nebchadnezzar (20 Bottles)
Gift Boxes from other Champagne Houses are available.
Price incl. of VAT