Laurent-Perrier - Grand Siècle
Luxury Gift Box
Grand Siècle Luxury Gift Box includes:
One bottle of Grand Siècle Champaigne,
One Ice packet with Brass plaque,
Leather covered handle,
Two Laurent-Perrier Champaigne glasses,
Stylish Gift Box,
Outer Gift Box,
2008 Edition
Price - £119.95 (inc. Vat) available in 2010
In the 17th Century, during the reign of Louis XIV, France enjoyed its most illustrious era. Louis XIV became known as the "Sun King" for his benevolence and his patronage of the Arts, which became the foundation of France's rich artistic heritage. At the Palace of Versailles Louis XIV was the first French King to drink Champagne.
Louis XIV's era became known as the Grand Siècle - the "Great Century". Bottled in a replica of a 17th Century bottle evoking the radiance of that period, Laurent-Perrier's prestige cuvées embody luxury, magnificence and elegance fit for a king.
When it came to his prestige cuvée, Bernard de Nonancourt decided to highlight two of Champagne's traditional realms of proficiency: the blending of different crus and different vintages. Grand Siècle is the epitome of Champagne cuvées, as it blends complementary wines from Laurent-Perrier's very best growths and most successful vintage years.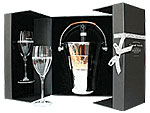 Grand Siècle is made with a Pinot Noir and Chardonnay blend, with the latter being slightly dominant. Twelve of the most prestigious villages supply these grapes; all of them classified at 100% Grands Crus such as Ambonnay, Verzenay, Mailly, Avize, Cramant, Chouilly and Le Mesnil-sur-Oger. Within the vineyards of these villages, only the very best plots are selected, as are the finest musts from the pressings. The blended wine is then aged during the second fermentation on the yeast for approximately five years.
It has a bright color, with a brilliant yellow hue. Its subtle aromas of honey, hazelnuts, grilled almonds and brioche, make this the perfect companion for refined dishes. It pairs just as well with poultry and truffles as it does with veal and morel mushrooms.

All prices inc. VAT