Ruinart Gift Boxes
Ruinart L'Escapade Champagne Gift Box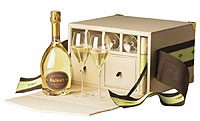 The limited edition Ruinart 'Escapade' is a one off quality champagne hamper.
A perfect addition to alfesco dining for casual or formal events when only a chilled bottle of Blanc de Blancs will do.
The hamper comes complete with a bottle of Ruinart Blanc de Blanc delicious Chardonnay Champagne and a set of 4 stylish glasses.
Gift Box 34cm x 23cm x 30cm including:
1 bottle Ruinart Blanc de Blancs, NV
4 champagne glasses by Ruinart,
Stylish wooden box including 2 compartments
1 cloth in sand colour with green stripe running down the centre - Ruinart Logo
Price: £123.75 (inc. Vat)
---
India Mahdavi Champagne set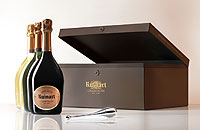 In the pursuit of the utmost quality the company has asked India Mahdavi to design a special Champagne spoon and box.
The Parisian-based designer and architect is among the most highly respected in her field, with her resumé boasting an impressive array of diverse international projects: the John Frieda Salon (London), Condesa df Hotel (Mexico City), and On Rivington (New York).
With the hotbed of competition between champagne houses, Ruinart's decision to align itself with such a respected member of the design elite is a move into the future for the independent Champagne house, while maintaining the quality achieving values of its past.
This stylish gift includes the following:
Gift box in outer carton,
1 bottle Ruinart 'R' - Brut NV,
1 bottle Ruinart Blanc de Blancs NV,
1 bottle Ruinart Rose NV,
1 silver stopper by India Mahdavi - Limited edition
Price: £159.95 (inc. VAT)
---
'Revelation' Dom Ruinart Rose 1996 vintage
Celebrate the new Dom Ruinart Rose
Creation of an original champagne flute designed by Emmanuel Dietrich,
Glass with dramatic aesthetics and extraordinary wine-enhancing characteristics,
Fine-tuned glasses down to the last detail to heighten all aspects of this outstanding champagne.
The gift box includes:
Gift box in outer carton,
1 bottle Dom Ruinart Rose vintage 1996,
2 glasses designed by Emmanuel Dietrich

Price: £224.00 (inc. VAT)
---
Summer Gift Box Ruinart Rose Vintage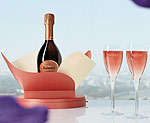 Champagne house Ruinart has artfully embraced summer with its summer gift box designed in the shape of a pretty pink flower. Nestled inside is a half bottle of Ruinart Rose, with two engraved Champagne flutes, for the chicest kind of al fresco entertaining.
The gift box includes:
Gift box in outer carton,
1/2 bottle Dom Ruinart Rose NV,
2 stylish glasses
Price: £49.50 (inc. VAT)
---
Just a little bit of history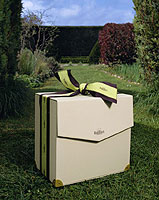 This, the oldest Champagne House, was founded in 1729 by Nicolas Ruinart, a linen merchant and nephew of Dom Thierry Ruinart, a well known wine-maker and colleague of Dom Perignon.
The firm prospered through the turbulent Napoleon's era, though the family's royalist sympathies were made clear when Irenee Ruinart, as Major of Reims and depute for the Mrne, welcomed Charles X to his coronation in Reims Cathedral in 1825. Irene's son, Edmond Ruinart, was an early prospector of the US market. He was received in 1832 by President Jackson, to whom he presented a case of Ruinart champagne.
Nearly 39 years later his heir, Edgar, was traveling to Russia where he had an audience with the Tsar.
Thanks to adventures men like the Ruinart, the total exports of Champagne quadrupled between 1850 and 1899.
During the first World War the firm's premises in Reims were all but destroyed. Undaunted, Andre Ruinart, then head of the firm, set up an office in one off his Roman chalk cellars and, when this was badly flooded, installed his working desk on a raft, so that business could carry on as usual. The house remained a family affair until it was bought by Moet & Chandon in 1963.
We stock:
'R' de Ruinart Brut NV,
Ruinart Rose NV,
Ruinart Blanc de Blancs NV,
Dom Ruinart 1996,
Dom Ruinart Rose 1996
All prices inc. VAT