Screwpull Pourer Aerator Stopper
New Pourer Aerator Stopper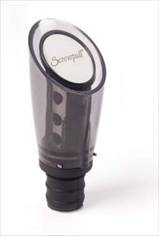 To get into the festive spirit of any special occasion, what best than opening a nice bottle of wine? Rather than wait the many hours for your red to breath simply use Screwpull's new Aerator to decant your wine. This easy to use accessory oxidises wine as you pour.
The wine is optimally oxygenated on its way from bottle to glass, turning hours into seconds resulting in enhanced flavour and a smoother finish.
The original and practical design includes a drip-free lip protecting your table clothes from any wine stains, as well as a stopper function to store and preserve your wine after opening. 5-Year Guarantee.
Key Features & Benefits
Performs 4 functions:

Pourer: to control and regulate the flow of wine, when pouring
Aerator: double aeration chamber helps the wine to 'breathe'
Stopper: for easy storage, once wine is opened. When you finish using the aerator, remove pourer, turn the rubber seal at the bottom to close the pourer action and put the stopper back into the bottle.
Non Drip Lip: prevents drips after pouring

Fits most bottles of wine
High quality construction with stainless steel core and badge – totally food safe
Acrylic gift box with care & use instructions
5-Year Guarantee
Price: £17.95 (inc. VAT)

| | | | | |
| --- | --- | --- | --- | --- |
| | | | | |
| 1. Aerator | 2. Pourer | 3. Drip Stop | Open position | 4. Stopper sealed |
All prices on this Page are incl. of VAT