Screwpull Platinum
Limited Edition - 30th Anniversary

To celebrate three decades as the wine lovers' brand of choice, Screwpull launches two luxurious Limited Edition Platinum Lever Models with complementary accessories, marking its anniversary in style.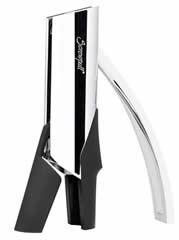 Premium Box Set
with mock-leather finish case
and platinum foil cutter.
A Corkscrew with finesse !
An innovation which has hit the spot in removing any type of cork !
Ref code: 540800060
The latest technology developed by Le Creuset
Offer patented product with innovative and advanced technology
Premium pricing in line with the advanced features and benefits offered
Highest quality design, materials and packaging, in keeping with premium nature of the brand
The fastest, easiest way to remove a cork
New improved lever action works more effectively on all corks, but especially synthetic corks
Fewer actions to complete cork removal, therefore less effort required: 4 actions vs. 6 on a standard Lever Model
Patented and design registered:

Fixed rack, moving gear
Screw assembly
Rotator

Premium mock-leather finish case
30+ processes = over an hour to make each unit!
Price: £81.95 incl. VAT
---
Trigger LM 350 Platinum Limited Edition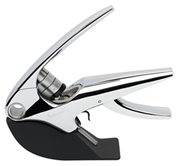 Often imitated, never duplicated, the bold engineering and superior quality of Screwpull Lever Models is unmistakable. The LM-350 Metal Trigger blends design, performance and innovation into a stunning functional form. This elegant ergonomic design provides a wider yet more secure grip around the neck using just one hand, while making it easy to open bottles in a fluid motion.
Complete with a Metal Foilcutter and stand in a black wooden gift box.
Unique 'Trigger – grip' handle
Comfortable and easy to use
Can be placed onto the bottle with one hand
Automatically adjusts to bottle neck size
Grips and holds bottle securely
In stylish Gift Box
10-Year Guarantee

Price: £59.95 incl. VAT
---
FC-400 Metal Foilcutter Platinum Limited Edition
The original 4-wheel Metal Foilcutter removes the foil crown from a wine bottle cleanly and easily, with just a gentle twist of your hand. This is an essential and indispensible tool for wine drinkers.
Presented in a stylish black gift box.
10-Year Guarantee
Price: £8.45 incl. VAT
---
WA-137 Metal wine pump platinum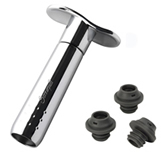 By removing air from the bottle, the Screwpull Metal Wine Pump preserves the flavour and aroma of an opened bottle of wine for several days. The Screwpull Metal Wine Pump's barrel is 20% larger than others causing it to need fewer strokes, which makes our Wine Pump more efficient. Elegant ergonomic design with easy-grip handle.
Complete with 3 stoppers and presented in an attractive black gift box.
Preserves wine after opening. Not suitable for sparkling wine.
Efficient action: fewer strokes required to remove air from bottle
Universal pump, fits all standard stoppers
Comfortable, easy-grip handle
3 stoppers included, each create excellent vacuum seal
10-Year Guarantee

Price: £16.95 incl. VAT
---
WA-139 Metal Drip Ring Platinum

This elegant Metal Wine Collar is sized to fit any wine bottle. The black felt lining captures spills after pouring, protecting linen and other surfaces from stains.
Presented in an attractive black gift box. Makes a perfect gift.
10-Year Guarantee

Price: £5.45 incl. VAT
All prices on this Page are incl. of VAT