The House of "SCHLADERER"
producer of the finest German Schnapps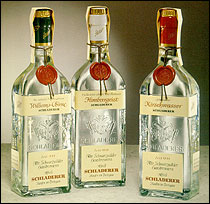 The Family Spirit – from a humble 'House Distillery' to an enterprise of international reputation – that's the remarkable success story of the Schladerer Company in Staufen – Black Forest – Southern Germany still run by the family.
Quality is the most important aim of the company, which has achieved World Wide recognition over 150 years since the days, Sixtus Schalderer bought the 'Gaesthaus' named 'Kreuz – Post' including the distillery and the licence in 1844. In 1922 Alfred Schladerer closed the Restaurant and extended the distillery as well as the winery. In 1930 Liqueurs were produced and in 1938 the so called '4 Corner Bottle' was designed and later registered. During the war, jam was produced to help the company to survive, Schladerer Himbeergeist was sold in Switzerland in 1951 and various distinctions achieved. From 1954 onwards Schladerer, crew World Wide and Alfred Schaderer died in 1956 and his wife carried on running the business.
In 1957 Schladerer Williams Pear was created and became one of the most important product in the Schladerer range. Greta Schladerer died in 1987 when her adopted son Nicolaus Schladerer – Ulmann took over.
RI – Wine of Ascot is selling the Schladerer products since 1998 and over the last few years also successful via the Internet as far as Japan and the USA.

Schladerer 'Eaux de Vie' – Black Forest Schnapps
Himbeergeist ( made from raspberries) , 42 % Vol.
£ 31.95 excl. VAT
Genuine Black Forest Kirschwasser (made from cherries) , 42 % Vol.
£ 31.95 excl. VAT
Williams Birne (made from pears) , 40 % Vol.
£ 31.95 excl. VAT
Schladerer Mirabell (made from yellow plumb), 42% Vol.
£ 31.95 excl. VAT
Original Zwetschgenwasser ( made from plums) , 42 % Vol.
£ 31.95 excl. VAT
Schladerer Vintage
Schladerer Kirschwasser - Cherry Vintage 1995, 43% Vol.
£ 49.95 excl. VAT
Schladerer Rarities
Schladerer Sauerkirschwasser N.V. - sour Cherry, 42% Vol.
£ 47.95 excl. VAT
Schladerer Ziebaertle N.V. - wild growing Plum, 42% Vol.
£ 47.95 excl. VAT
Schladerer Walliser (Switzerland ) Williams N.V. - from the Canton of Wallis,.43% Vol
£ 47.95 excl. VAT
Schladerer Liqueurs
Genuine Black Forest Kirsch Liqueur (made from cherries) , 28 % Vol.
£ 22.70 excl. VAT
Himbeer Liqueur (made from raspberries) , 28 % Vol.
£ 22.70 excl. VAT
Williams Birne Liqueur (made from pears) , 28 % Vol.
£ 22.70 excl. VAT
Schladerer Giftpacs Miniatures
Gift pack incl. Varities of Schnapps Miniatures N.V 6 Miniatures ( 0.03 Ltr.)
£ sold out
The flavours contained i this lovely Miniature Gift Box are: Raspberry, Williams Pear, Cherry, Yellow Plum, Blue Plum and Apricot.

All Bottles (Schnapps)are 70 cl size.

All Bottles (Liqueur) are 50 cl size.

All prices excl. VAT
A list of 'Special Drink's' from Europe
Doornkaart 38% Vol. - 70cl
Apfelkorn 20% Vol - 70cl
Winter Apple 20% Vol. - 70cl
Grandmother's Vanilla Secret 15% Vol. - 70cl
Peach Schnapps 20% Vol.- 70cl
Puschkin (Red) Vodka 17.5% Vol. - 70cl
Jaegermeister
Linie Aquavit 41.5% Vol. - 70cl
All prices excl. VAT